Steffon Armitage: France consider selecting former England flanker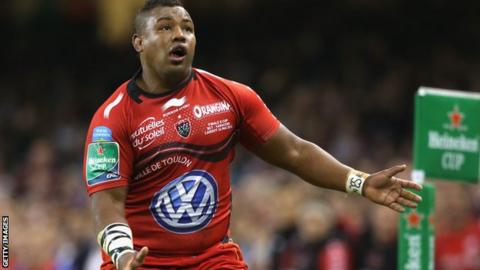 Ex-England flanker Steffon Armitage has been included on a list of 10 foreign players who could potentially be picked to play international rugby for France.
The 28-year-old, who won five caps for England between 2009 and 2010, currently plays for Toulon.
International Rugby Board eligibility rules state that a player can represent a country where he has completed 36 consecutive months of residence immediately before the time of playing.
Armitage has been at Toulon since 2011.
Last season he was named European player of the year after helping his club win the Heineken Cup and French league title.
However, he has been overlooked for England selection because Rugby Football Union rules state that players playing for clubs overseas will only be selected in extraordinary circumstances.
France are now seeking to exploit a loophole in qualifying regulations for the 2016 Olympics in Rio de Janeiro that enables players to switch national allegiance.
Changes to eligibility rules ahead of rugby sevens' Olympics debut means a player can represent another country provided they have the correct passport and have not been capped for 18 months.
An appearance in just one qualification event for the Games would consequently enable Armitage to be picked by France head coach Philippe Saint-Andre.
South African scrum-half Rory Kockott and Australian fly-half Brock James are among the other names being considered by the French Rugby Federation.
Armitage said in 2012 he still hoped to represent England, despite playing for Toulon.
"I am always hoping and I will keep hoping in the future that I do get another chance with England," he said at the time.