De Kock Steenkamp Wales reaction 'over the top' - Tandy
Last updated on .From the section Rugby Union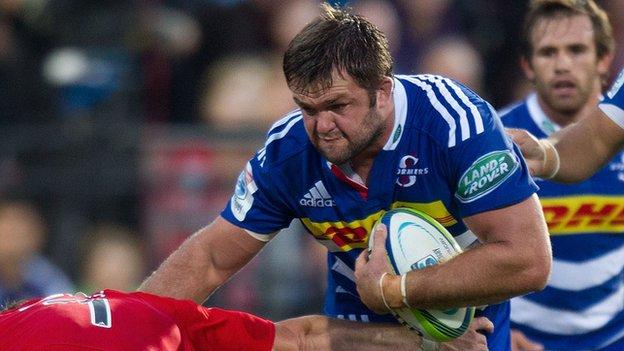 Ospreys head coach Steve Tandy says there has been an overreaction after new signing De Kock Steenkamp revealed he wants to represent Wales.
South African lock Steenkamp, 27, could play for Wales after a three-year residency period.
Ex-Wales captain Michael Owen says rules allowing players to represent another country through residency are "a joke."
"It's a little bit over the top if I'm honest," Tandy said of the reaction.
"Especially when you've got so many other time-servers in and around the place.
"I think he [Steenkamp] said something in goodwill and I think it's been a little bit blown out of proportion."
Steenkamp, who has been called up to a Springboks squad but never represented his country, has signed from Super Rugby side Stormers on a three-year deal.
Under International Rugby Board regulations, three years is the length of time it takes for a player to qualify for a national team on residency grounds.
As part of the recent £60m deal between the Welsh Rugby Union and four regions, each region can have up to eight overseas players but two must be "time-serving" for international duty.
Steenkamp, who is expected to arrive at the Liberty Stadium in late September, said he would be "delighted" to represent Wales.
However the national team's skills coach Neil Jenkins said Steenkamp should focus on playing well for Ospreys before thinking of a Wales cap.
Tandy says the second row has been brought into the squad to provide experience following the departures of Wales pair Ian Evans and Ryan Jones.
The Ospreys head coach says Steenkamp will be a valuable addition to the squad but he must prove his worth in order to claim a starting place in the team.
"First and foremost he's got a job to do for us when he comes in," Tandy added. "He's got to get into our team.
"He's been over and I've met him and seems like a real good character and if we can get a good three years out of him developing our younger kids - that's what he's been brought in to do."