Nigel Short stands down as Regional Rugby Wales chairman
Last updated on .From the section Welsh Rugby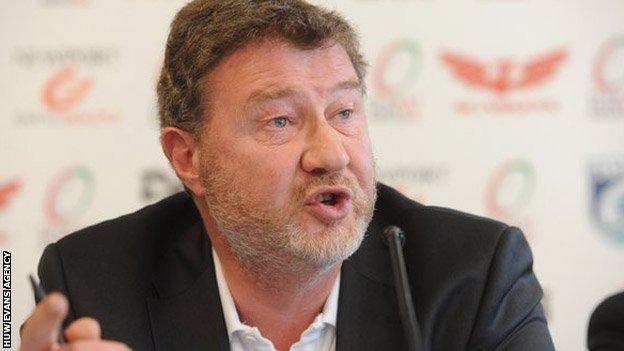 Scarlets chairman Nigel Short has stood down as chairman of the body representing Wales' four professional regions amid a restructure.
Robin Cammish takes over as Regional Rugby Wales (RRW) chairman and steps down from being Scarlets vice chairman.
Mark Davies will quit as Scarlets chief executive at the end of September to take the same title with RRW.
Davies has been acting RRW chief executive for a year, succeeding ex-Scarlets chief Stuart Gallacher.
Former RRW chief Stuart Gallacher retired in June. Ex-Cardiff City chief executive Alan Whiteley, who has a background in commercial law, joins the RRW board as an independent director.
The changes were announced in a RRW statement.
Nigel Short as he stands down as RRW chairman
"The more our national team plays the less special it becomes. We must avoid this short-term trap."
The body which represents Ospreys, Newport Gwent Dragons, Cardiff Blues and Scarlets, has recently signed a fresh £60m agreement with the Welsh Rugby Union over the professional game's future.
Short said: "It is now time for the next stage in regional rugby's progression to be taken forward by a new executive with a strong commercial focus and for me to return to my real passion which is Scarlets."
Cammish said: "I will put all my energy and experience into the next phase of building regional rugby as we grow and become a very structured, professional and relevant organisation that is in touch with all levels of the game in Wales with the goal to promote and advance our regional game and ensure it reaches its full potential."
Short also issued a personal statement via RRW.
He urged the game to concentrate efforts on its grassroots, prevent the Wales national team from becoming an over-exposed brand and seek to "continuously improve" at all levels.
Short's statement came in the wake of chairman David Pickering losing his WRU seat in elections that saw Newport Gwent Dragons chief executive Gareth Davies and former Wales and Llanelli prop Anthony Buchanan win places on the governing body's board.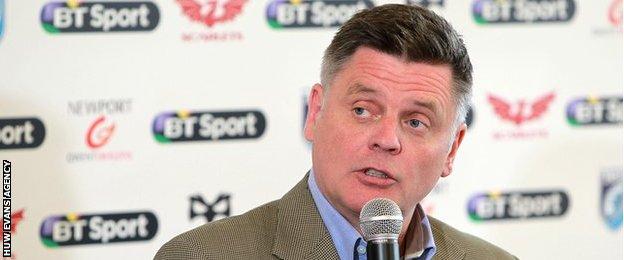 "We have a history, not only in Welsh Rugby, but in rugby in general of letting problems build up until the dam eventually breaks and major change happens all at once, sometimes with damaging results.," said Short.
"All great companies or organisations have a culture of continuously working to improve at all levels, all of the time.
"Rugby is a game of six inches and business is no different.
"We must develop a culture that is seeking improvement all of the time and not once every five or six years when we have no choice."
Short also believes the governing body must avoid the "short-term trap" of Wales playing too many Tests.
He said: "Welsh rugby and our Welsh national team are one of the world's great sporting brands.
"Like all great brands they face the dilemma of how to best commercialise and exploit the brand without diluting its intrinsic long-term value.
"It is a classic business choice between short-term gain or long-term value.
"It is almost always a mistake to take the short-term option.
"Once over exposed it is very difficult to regain the value of any brand.
"In other words, the more our national team plays the less special it becomes. We must avoid this short-term trap."