Dragons boss Lyn Jones laments Welsh regions' hopes for season
Last updated on .From the section Welsh Rugby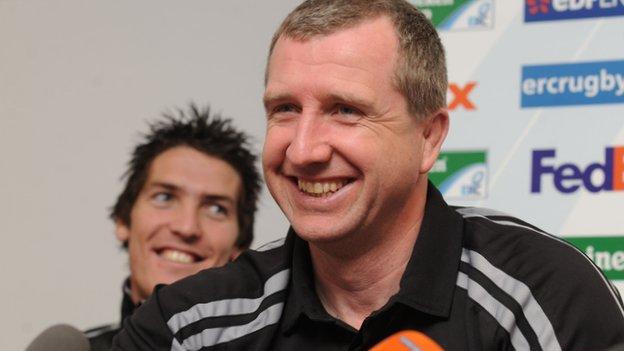 Newport Gwent Dragons boss Lyn Jones says they, Cardiff Blues and Scarlets are "a country mile" away from being able to compete with top Pro12 and European sides.
He feels only Ospreys could make their mark in the foreseeable future.
"There's been a lack of investment in the regions for probably seven years now and the regions have been run down," he said.
Jones made his comments in the wake of Dragons 33-13 defeat by 14-man Glasgow.
The former Neath, Llanelli and Wales flanker says the recently-signed £60m agreement between the Welsh Rugby Union and four regions can pave the way for significant improvements to the fortunes of the teams.
But with Cardiff Blues having suffered a heavy defeat against Glasgow and Scarlets having won just once in three Pro12 starts, Jones feels the immediate future is bleak.
Jones' side have lost their three opening games; Scarlets have a draw, a defeat and a win; and Blues have won only once.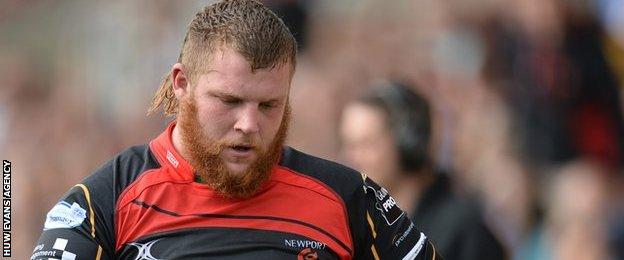 Scarlets' and Blues wins came against Italian opposition, with the former hammering Treviso in round three.
Blues' also made light work of Zebre on a visit to Italy, but were a comfortable second best to Ulster.
Ospreys, whose life began amid Wales' move to regional rugby in 2003 with Jones at the helm, host Edinburgh on Sunday hoping for a third successive success.
He was asked if he felt Wales' regions are capable of competing for Pro12 top-four or top-six places.
Jones responded: "Well, what we've witnessed so far - maybe the Ospreys - but the rest of us, no, we're a country mile off it. But what do you expect?
"There's been a lack of investment in the regions for probably seven years now and the regions have been run down.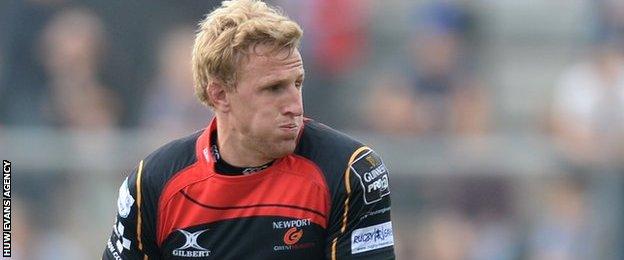 "If you don't invest and if you don't plant your seeds, don't expect to get any return in the spring and this is where we are now.
"At least I think we've bottomed out in regards to at least there's some agreement been made."
Jones says the deal that ended a lengthy dispute between the WRU and regions can eventually boost the regions.
He added: "The emphasis in the agreement is about producing players to go and play for Wales, which is very, very important.
"But at the same time we need to be patient and understand that to get to where Glasgow is now, it's taken them four years of planning, of hard work, of making mistakes, of player recruitment.
"And they've grown in confidence and they've produced a really good team today.
"And we need to take that on board and realise where we are as Welsh regions, but also to understand that we can easily get to where Glasgow are.
"I know that because it happened in 2003 when we did become regions.
"We centralised our resources. There was lots of good faith between the union [WRU] and the regions then and we were able to move forward in winning titles.
"However, since 2008 it's eroded and this is where we are."