Rugby World Cup: England face 'huge' pressure as hosts - Johnson
Last updated on .From the section Rugby Union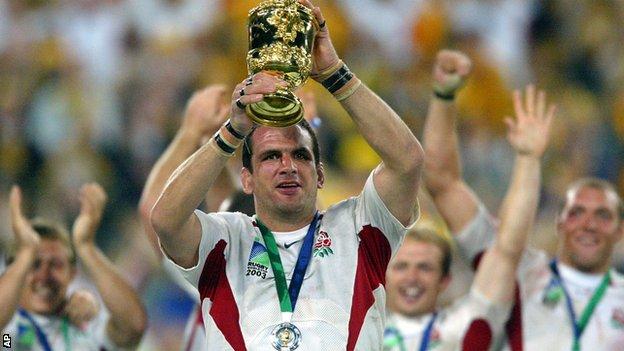 Martin Johnson says dealing with the pressure of being the host nation will be key to England's prospects at next year's Rugby World Cup.
"In 1999 it became too big in our heads. If you make that mistake, that's the World Cup final gone," he said.
England face Fiji in the opening match of the 2015 tournament next September.
Wales and Australia are in the same group, which Johnson describes "as tough a World Cup pool as I can remember".
Russia or Uruguay, who meet in the first leg of a two-leg qualification play-off on Saturday, will join that section.
Johnson, 44, was England captain in the 1999 competition, which was principally hosted by Wales but included games in Britain, Ireland and France.
His team lost to New Zealand in the group stage and were knocked out by South Africa in the quarter-finals.
"If you run on to the field and you have the weight of a nation on your shoulders, it's tough, I've always felt you have to play everything down," added Johnson.
Chris Jones, BBC Radio 5 live:
"Martin Johnson has kept the lowest of profiles since leaving the England job nearly three years ago, but clearly the acrimonious way in which his time in charge ended still hurts.
"The World Cup of 2011 is remembered as one of the most ignominious periods in English rugby history, but Johnson makes the point that England had won the Six Nations earlier that year for the first time since 2003, beat Ireland in Dublin that summer, and also came through tricky matches against Scotland and Argentina in the pool stages.
"And while the off-field lack of discipline in New Zealand was inexcusable, the way the tournament abruptly ended in the quarter-finals will serve as a stark reminder to Stuart Lancaster that all best laid plans can go to waste in the ruthless environment of a World Cup, especially with Australia and Wales in England's group this time next year."
"The demands on the players will be huge. The 1999 World Cup was like that and this will be 16 years later.
"Playing the game is the easy bit because that's what you do and what you know. Yes it's hard, but dealing with everything around it is the hardest part. The pressure is immense."
Johnson, who stepped down as England coach following their elimination from the 2011 tournament in New Zealand, admitted "the game got dragged through the mud" after their campaign was blighted by disciplinary issues, including some players taking part in controversial nights out.
He said his biggest error was his handling of the aftermath.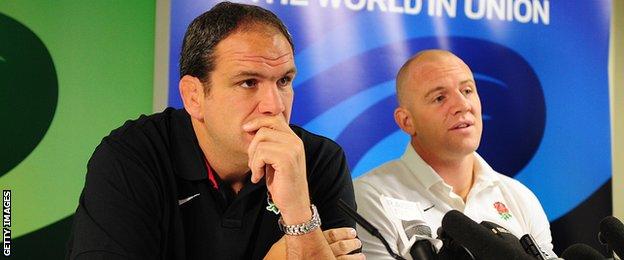 "You're fighting a tidal wave almost at that point because everyone 'knows' what's happened because they've read about it," he said.
"That was my mistake, you have to win that battle as well. It's almost like a sales job.
"In 2003 once you've won the World Cup, everything is portrayed as being great and a perfect working machine.
"But of course it wasn't - we were all human beings, we all made mistakes, had our frailties and did similar things that the boys did in 2011."