Rob Baxter: Exeter had Harlequins hangover in Newcastle loss
Last updated on .From the section Rugby Union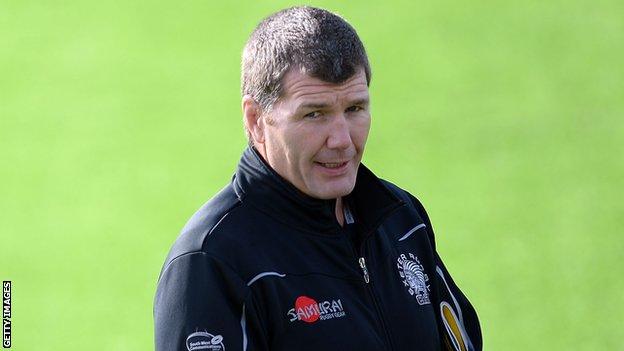 Exeter head coach Rob Baxter says his side were suffering a "hangover" from their as they lost to Newcastle Falcons for the first time in the Premiership.
The Chiefs as Newcastle ended a 20-game losing streak going back almost a year.
"The players were on an emotional high post the Harlequins game because there had been a bit of pressure," he said.
"I think we probably in some ways had a bit of a hangover from that."
And Baxter was particularly unhappy with his side's defence as they conceded a season-high tally of 29 points.
"Defensively that was our poorest performance of the season. No-one's going to need to look at the score to know that," he told BBC Radio Devon.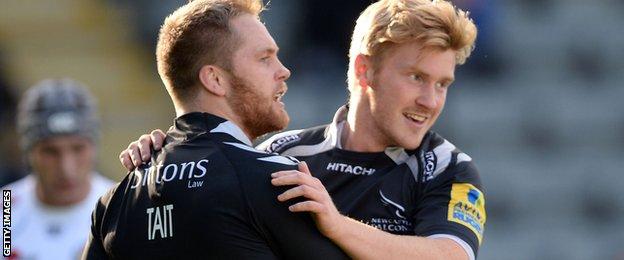 "Right from the start we slipped off a couple of tackles and that just encouraged Newcastle to keep coming at us.
"We gave up some soft defensive penalties. We probably didn't need to give up 12 of those points because they were soft defensive penalties."
Baxter, whose side are fourth in the table continued: "If we were prepared to come here and stand and fight for 80 minutes you'd come back on-side, you'd get off the line, you make your tackles and you do it all over again and again until the opposition gives you the ball back.
"But the positive was that we were in it right at the death when we were away from home and had a chance to score a try right at the death to level it and win it with the conversion.
"But it didn't look like we really gritted our teeth and said 'this is going over no matter what happens' and that, for me, was the story of the game."