Leicester Tigers v Harlequins: Guscott's Premiership preview

By Jeremy Guscott
Rugby Union analyst, BBC Sport
Last updated on .From the section Rugby Union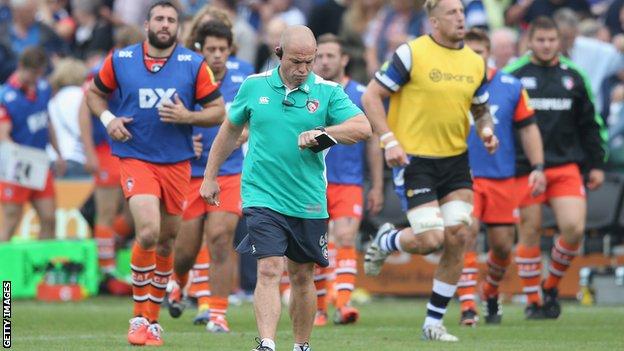 Aviva Premiership: Leicester v Harlequins
Venue:
Welford Road
Date:
Friday, 10 October
Kick-off:
19:45 BST
Coverage:
Commentary on BBC Radio 5 live sports extra, BBC local radio and BBC Sport website
Everyone loves a story and to talk about certain situations. Nobody would have picked Leicester to be in 10th in the Premiership, or even Harlequins in sixth, given they were third and fourth in the standings last season.
Considering the history and tradition of Tigers and how many finals they have been in during the last decade, and how well Quins have pushed on since getting to the final and winning it in 2012, these guys are top-six sides for sure.
But where they are now just goes to show how competitive this league has become.
The pressure is more on Leicester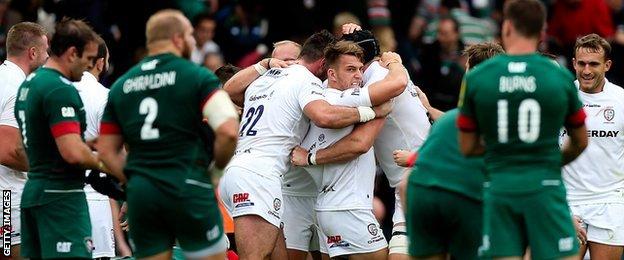 Nobody would have said Leicester would have lost to London Irish at home, get drubbed by Bath in the manner they did and even gone to Gloucester and for it to be pretty much over by half-time.
Leicester is a rugby town. Even though it is amongst the football, they hold their own there because they are so vociferous, vibrant and emotional. And they will be hurting - the public will be hurting as much as the players.
The All Blacks have to live with the expectation of winning every single game they play, home or away, and Leicester also have that expectation, certainly at home. This is a huge game for all manner of reasons, but the pressure will be more on Tigers than it will be on Quins.
If I look at Leicester's team for the Gloucester game last week, there seems to be a bit of a transition going on. Welford Road is an intimidating place, but if you look at the names in the Tigers side, they do not look so intimidating anymore.
But it is so early in the season and I certainly would not be writing off either of these teams.
Quins will fear another loss is around the corner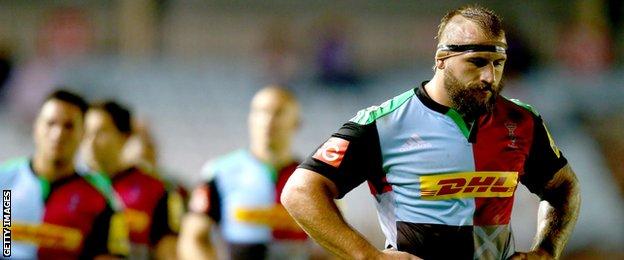 Harlequins were quite revolutionary in terms of ambition and style the season they won the league. They played tremendous rugby and, at the time, proved you can play in that style and be successful.
But, for whatever reason, they have not been able to power up their pack and if you cannot do that you are going to fall "behind the eight ball". You look at how Bath have beefed up their pack, and they are very competitive.
The nilling by Saracens and the comprehensive defeat by Exeter Chiefs has really made them sit up and take notice.
When you are beaten substantially, picking the bones out of it is hard. Everybody hates losing and the first thing you want to do is dismiss it and get rid of it, but with analysis these days there is no escaping it.
The season so far

Leicester Tigers

Harlequins

6 Sept:

Won

36-17 v Newcastle (H)

6 Sept:

Won

20-15 v Lon Irish (N)

13 Sept:

Won

24-20 v Exeter (A)

12 Sept:

Lost

39-0 v Saracens (H)

20 Sept:

Lost

45-0 v Bath (A)

20 Sept:

Won

26-23 v Wasps (H)

27 Sept:

Lost

22-19 v Lon Irish (H)

28 Sept:

Lost

36-13 v Exeter (A)

4 Oct:

Lost

33-16 v Gloucester (A)

4 Oct:

Won

52-0 v Lon Welsh (H)
The difference between these two sides at the moment is that Harlequins have had a breather from the particularly hard games.
Confidence comes from winning and, to score the tries they did against London Welsh, they will be pleased. But deep down they will be thinking: "Is another defeat, like the ones against Saracens and Chiefs, around the corner?"
Harlequins will know they have to be so on top of their game - although, having won on three of their last four visits to Welford Road in the Premiership, it will not hold any recent bad memories for this side.
Burns has to be a leader for Tigers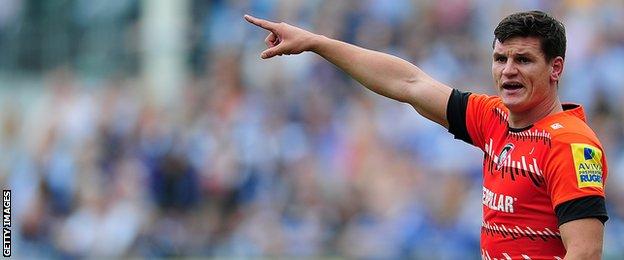 Leicester will be looking towards the experience of players like Marcos Ayerza and Brad Thorn, who is set to make his home debut.
But, even though Freddie Burns is relatively new to the squad, a fly-half has to be a leader. He has to dictate, to be the strategy and to execute nigh-on perfectly, else all his team's eyes are on him - and probably the 24,000 people watching too.
It is nothing he should not already be used to, coming from a very partisan part of the world like Gloucester.
I saw his first game against Newcastle and he played well. He seemed to master it all - he looked very controlled, very assured, struck the ball well and passed the ball well too. It is just about getting in the groove.
Yarde is already one of the top wingers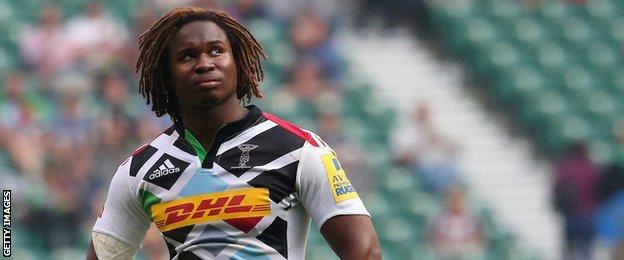 Already I believe Marland Yarde is a proven try-scorer, and he scored his first two for Quins against London Welsh last week. He is only 22 years old, he is new to the club and he is wanting to impress.
What I think makes the difference between a proven try-scorer and an incredibly rounded, smart rugby player is what else you can do and who else you can bring into the game. That is his next development - we know he can score tries, but who else can he make tries for?
That is a clear sign of how you are thinking about and understanding the game. Lots of wingers have difficulties passing the ball. Personally, I loved scoring tries and I had difficulties passing the ball, but at some stage it clicks and you realise it is sometimes easier for other people to do it.
But Yarde is one of the top wingers, and he will know if he nails 80% of his opportunities, he is on the radar and stands a good chance of being selected for the autumn internationals.
And the winner will be...
It is a really interesting time. There certainly will not be any panic in either of the two sides because they have played in too many big matches to be overly concerned.
But I would expect Tigers to win at home.