Jordan Reynolds: Guernsey coach impressed by side's fighting spirit
Last updated on .From the section Rugby Union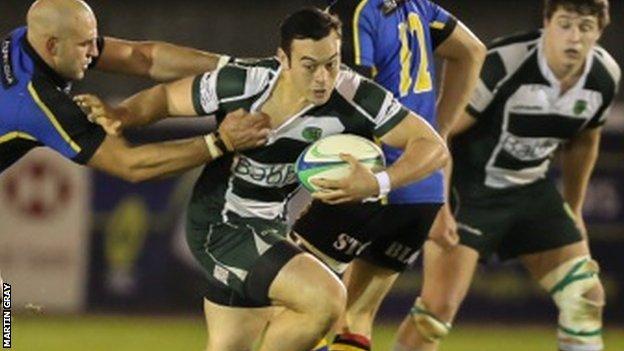 Guernsey head coach Jordan Reynolds had mixed emotions after his side's 20-15 defeat by Hertford.
They played most of the game with 14 men after Leyton Batiste was sent off.
"We only lost by five points and we had four lineouts we failed to get at the end that could have won that game," Reynolds told BBC Radio Guernsey.
"A man down for the entire game and we still competed with a decent side shows where we were from two weeks ago to where we are now."
Following Batiste's red card for a punch in the early minutes of the National Three London clash, Guernsey managed to hold their own against a side who were relegated from National Two South last season.
"We were down by eight points and to nearly score at the end was outstanding," Reynolds said.
"There are positives to take from the game and that's what we've got to concentrate on."
The Guernsey boss, expects Malcolm Barnes, Nick Barton and Blair Campbell to return to action very soon.
"These are big name players, so when they come back we can shore up those things that have gone wrong," he added.
"When they're on the park, they can talk players through a game and I think that's what we're lacking at the moment, a bit of cohesion and a bit of control.
"Everyone can yell and point and tackle, but we need to be doing the right things in the right areas and that's what these guys with experience give us."