Justin Burnell defends London Welsh's place in Premiership
Last updated on .From the section Rugby Union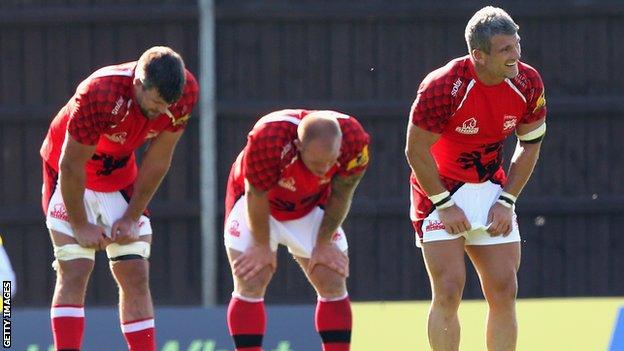 London Welsh head coach Justin Burnell has defended his side's place in the Premiership.
Welsh, who are bottom of the table, lost their sixth successive game on Saturday and have conceded 272 points.
The Oxford-based side earned promotion to the Premiership after beating Championship table-toppers Bristol in a two-legged play-off.
"The rules were whoever wins the play-off goes into the Premiership," Burnell told BBC Radio 5 live.
"We earned the right to play in this competition and that is what we will be doing."
Burnell said his side, who only have one point to show from the season so far, will not give up hope of avoiding relegation, despite losing to fellow strugglers Newcastle 23-3 at the weekend.
"There are still another 16 games to go and we need to win a game or two," he added.
"I don't think the league was decided on Saturday. We cannot give up, we have 16 games to go. If we decided to give up now it would be a horror show against some of those teams."
He also dismissed suggestions his side would fail to win a game this season.
"We are six down at the moment, to make the presumption it is going to be 22 is a big call," he added.
Welsh have a break from Premiership action for four weeks because of European and LV= Cup commitments, and Burnell hopes to patch up his diminishing squad in time for their return to league rugby.
Burnell joked they would need "tape and a lot of injections" to help his squad through, adding to BBC Radio Oxford: "We've got to get through this period.
"The injuries are absolutely ludicrous so whoever is fit and standing has to continue into these next two competitions.
"I think we've got to step up our training regime to accommodate the pace of the game, that was a big thing from the first six weeks.
"This period gives us a major opportunity to take a much wider look at our squad and gives those players who played in the six-week window of the Premiership a rest."