Rhys Thomas: No qualms despite major heart problems
By Gareth Roberts
BBC Sport Wales
Last updated on .From the section Rugby Union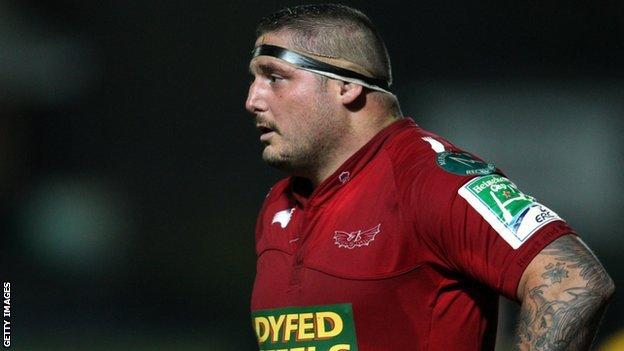 Ex-Wales rugby international Rhys Thomas says he "has no qualms" over the effects of a career that has left him needing a heart transplant.
Thomas, 32, was unconscious for almost two weeks after surgery in September.
If that operation proves a success, Thomas will be a candidate for the heart transplant that he expects would prolong his life by 15-20 years.
"I've got no qualms even though it's been a nightmare with all the ops and stuff," he told BBC Wales.
"The time I had [playing] - 10 years or whatever it was, 11 years - I had a great time. I wouldn't change a thing."
In November 2006, Thomas' career with Newport Gwent Dragons was disrupted by what was subsequently described as a "mystery" chest problem.
Rhys Thomas on rugby causing his heart problem
"I don't have any family history or any issues like that. They just said had I not been a professional rugby player I probably wouldn't have had the issues - this probably wouldn't have cropped up.
"Because of the constant load of fitness, of contact, the constant strain on the heart muscle - if I was just working and didn't have that extra strain on the heart, they say it would probably never have happened; I would never have had the heart attack."
The seven-times capped Thomas, a husband and father of two and step-father of two, retired from rugby in 2012 after collapsing with a heart attack during Scarlets training.
That led to his first open-heart surgery and he retired from the sport later the same year.
Thomas was diagnosed with pulmonary hypertension, which can cause shortness of breath, tiredness, feeling faint or dizzy, chest pain, a racing heartbeat and leg swelling.
But it also meant the transplant Thomas needs to prolong his life cannot take place unless the "machine" now wired to his heart via his stomach is effective.
His latest operation, on 2 September in Birmingham came close to being aborted, but Thomas returned home on 2 October and hopes for positive news in the coming months.
Rhys Thomas Fact File
Born:
31 July 1982 in Johannesburg
Wales caps:
Seven
Debut:
v Argentina in Buenos Aires, 2006
Clubs/Regions:
Newport, Dragons, Scarlets
Did you know?
Thomas attended King Edward VII School in Johannesburg along with South African rugby players Joe van Niekerk and Bryan Habana.
Thomas said: "My op lasted 13 hours and I didn't wake up for two weeks after.
"They tried to wake me up every morning, but I just wasn't playing ball so they kept me asleep for my own safety so thank God, after 12 or 13 days I woke up.
"And then I can't remember much for the first week afterwards because of the amount of drugs they put into me.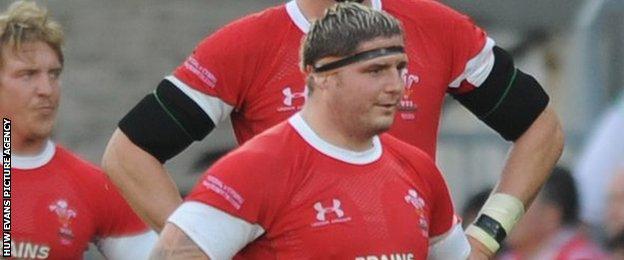 "So my operation was on 2 September and I left hospital on 2 October - I can only remember the last six days of my stay. So it was pretty hectic.
"This machine's job is to bring that pressure down.
"I've been informed that the pressure's already come down a little bit just from having a couple of investigations.
Rhys Thomas on playing on after his 2006 heart scare
"At that time I was just starting to break into the Welsh fold and rugby meant so much to me then and it was the last thing on my mind to give up. I'd do just anything to get back into the game. I was willing to ignore doctor's orders, so to speak, just so I could play... and I was never going to quit then."
"I haven't had the main one, which is in a few months at which they tell me definitely if the pressure has come down or not, but the indications are that it has already after six weeks. It's looking pretty good.
"But as long as I'm healthy and the machine's problem free, they'll try and get as many years as they can out of the pump because obviously the lifespan of a transplant is roughly between 15 and 20 years and that's kind of that.
"It's very unlikely to have another transplant after you have one because of the effect the tablets have on your organs.
"So basically if I can get as long as I can with this pump as possible, it's extra time that I've got around."
Thomas says the pump "has to be run by power constantly so I've got to carry batteries and when I'm not on the batteries I'm plugged into the mains in the night".
But the operation that is crucial to his hopes of longevity was almost abandoned while it was underway.
Rhys Thomas on medical advice in 2006
"I had a lot of people - it was like a 50-50 split. Doctors telling me, you know, they weren't that keen for me to carry on. And at the end of the day one of my specialists said yes, it wouldn't be a problem, because it cleared up. I had six months off. I did light recovery through those six month... and I was fine then for five years. It wasn't a problem and then it just kind of came back to haunt me."
"My operation wasn't as rosy as it could have been. Obviously, given that I've had two open-heart surgeries now, there was a lot of scar tissues from my first op, they were going to abort the operation after five hours.
"But then they managed to make a breakthrough and then my op ended up taking almost double as long as the normal op would.
"So it was a bit of a palaver, but it just makes you, you know - I'm just glad to be around."
Thomas began his professional career in Wales, making his debut for Newport, the city of his father's birth, in 2003.
He came through the youth ranks at Rodney Parade and made a try-scoring debut for the Dragons following the advent of regional rugby in a 27-5 win over Glasgow in October 2003.
Thomas went on to establish himself as a Dragons regular in the 2004-05 season as the team finished fourth in the Celtic League.
The tight-head made his international debut in Wales' 45-27 defeat by Argentina in Buenos Aires in June 2006.
He joined Scarlets from the Dragons in 2009 after making 119 appearances for the Newport-based region.
Thomas scored nine tries in 52 Scarlets appearances and scored four times in his 17 games in his final season.
His goals now are simple, if not fundamental.
"I can't work; certainly not at the moment," said Thomas.
"Luckily I had the relevant insurance taken out to look after myself and that's kind of been [financially] life-saving, if I'm being honest.
"Obviously I'm being run by a machine at the moment so I'm just enjoying life and taking things step by step."