Guernsey scrum-half Malcolm Barnes be forced to retire
Last updated on .From the section Rugby Union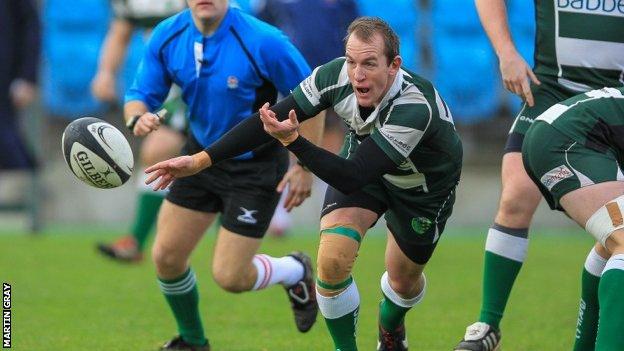 Guernsey scrum-half Malcolm Barnes could be forced to retire after dislocating his shoulder in the 17-15 win at Amersham.
The New Zealander, 29, was hurt in the first half of the National Three London match, having only returned to the side that day after missing the start of the season with a hamstring injury.
Barnes broke his neck in January, meaning he missed much of last season.
"It's possible I might have played my last ever game of rugby," Barnes said.
Barnes dislocated the same shoulder in February 2013 and fears that the injury could get worse if he plays once he recovers.
"I thought I recovered quite well from that but obviously the tissues and ligaments are a bit weak which doesn't help me in this situation," he told BBC Radio Guernsey.
"It is quite mentally draining and frustrating having to keep bouncing back from injuries.
"Rugby's in my bones and in my blood, I'll try and play rugby again, but if it doesn't happen then so be it."
Without Barnes for much of the game, Guernsey secured a dramatic last-minute win to seal just their second National Three London victory of the season.
Glen Walters kicked a conversion to win the match after Darren Bellingham had gone over.
Matt Hema and Tom Ceillam had scored unconverted tries for Guernsey as they went in 10-10 at half-time.
The win moved Guernsey up to 11th in the National Three London table.