Welsh Rugby Union wants to appoint first woman to its board
Last updated on .From the section Welsh Rugby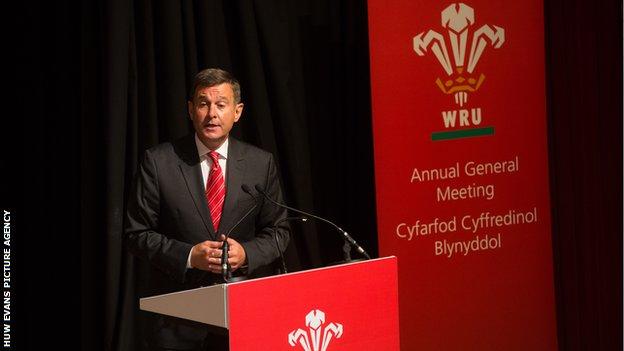 The Welsh Rugby Union could have its first female board member in its 133-year history after member clubs voted in favour of the idea.
At the annual general meeting, members backed appointing two independent non-executive directors to the board.
The two directors will have business rather than rugby experience.
"We can now actively strive to ideally appoint a woman to the board of the WRU for the first time," WRU chief executive Roger Lewis said.
Members also voted to limit the tenure of board membership to a maximum of 12 years for any director.
The decisions follow the recommendations of a governance review commissioned by the Union and led by High Court judge Sir Robert Owen.
The review findings were put before the WRU board in April but had to be formally endorsed at the Union's AGM,
Appointments could now potentially be made by early next year.
"The member clubs have voted for changes which will improve the governance of our Union," Lewis said.

"Rugby has changed as we progress into the professional era and we must adapt in order to manage our evolution as a governing body.
"We can now bring in expertise from outside rugby to ensure our strategic and operational decision-making is tested rigorously.
"The limit on the terms of office served by directors will also help to stimulate fresh ideas and new perspectives on to our management structures."
The AGM in Port Talbot also marked David Pickering's final act as chairman after 11 years in office.
Former Wales international Pickering failed in his bid to be re-elected to the WRU board last month but endorsed the changes approved at the meeting.
"I am delighted the clubs have been strong and decisive in backing these important changes," Pickering said.
"We have to modernise and progress in order to make sure the WRU is fit for purpose as a sporting governing body for the 21st century."