IRB honours ex-Welsh rugby chief Ray Williams
Last updated on .From the section Welsh Rugby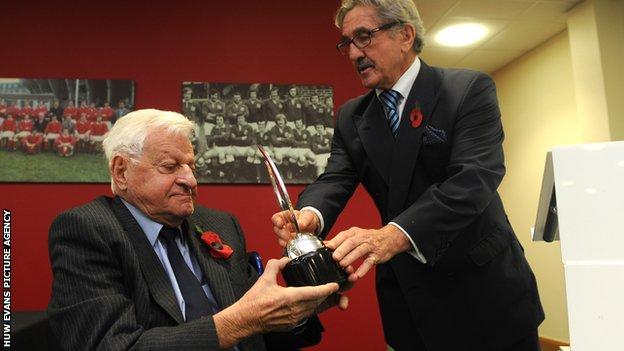 The International Rugby Board will honour former Welsh Rugby Union secretary Ray Williams with the Vernon Pugh award for distinguished service.
It is one of the highest accolades the world governing body can offer.
Ex-London Welsh and Northampton player Williams, 87, is credited with revolutionising rugby coaching after joining the WRU as the world's first paid coaching organiser in 1967.
"He was a major influence," former Wales Wing Gerald Davies, 69, said.
"His aim was to achieve for the highest possible levels of skills. Excellence was his theme.
"And the systems he created here in Wales were replicated all over the world."
He went on to become WRU centenary officer in 1980 before succeeding Bill Clement as secretary, and left in 1988.
Previous winners of the Vernon Pugh award
2013 - Ian McIntosh (South Africa)
2012 - Viorel Morariu (Romania)
2011 - Jock Hobbs (New Zealand)
2010 - Jean-Claude Baque (France)
2009 - Noel Murphy (Ireland)
2008 - Nicholas Shehadie (Australia)
2007 - Jose Epalza (Spain)
2006 - Brian Lochore (New Zealand)
2005 - Peter Crittle (Australia)
2004 - Ronnie Dawson (Ireland)
2003 - Bob Stuart (New Zealand)
2002 - Allan Hosie (Scotland)
2001 - Tom Kiernan (Ireland)
Williams was one of Wales' leading rugby officials throughout the glory years of the late 1960s and 1970s.
The IRB award was named after another former WRU official, Pugh, who became chairman in 1994.
Pugh went on to become IRB chairman and died, aged 57, in April 2003.
Davies, whose exploits included a starring role on the British and Irish Lions Test series win of 1971, paid further tribute to Williams.
"He was responsible for the way we think about rugby football in the way he formulated and tabulated the skills and the requirements of rugby football," he said.
"And he arranged for coaches to be educated in the rudiments of the game; of the skills the tactics, the techniques - the mechanics.
"If coaching or teaching happened at school, there was no likelihood of any further coaching or teaching thereafter.
"Ray introduced that extension of teaching rugby football to adults."
IRB Chairman Bernard Lapasset said: "The IRB Awards recognise those who have inspired and encouraged our family to grow, to thrive and reach out.
"Ray Williams is a wonderful example of how, through his selfless dedication to our sport and its character-building values, rugby can change lives, bring people together and provide tremendous camaraderie."