Cornish Pirates docked British & Irish Cup points over rule breach
Last updated on .From the section English Rugby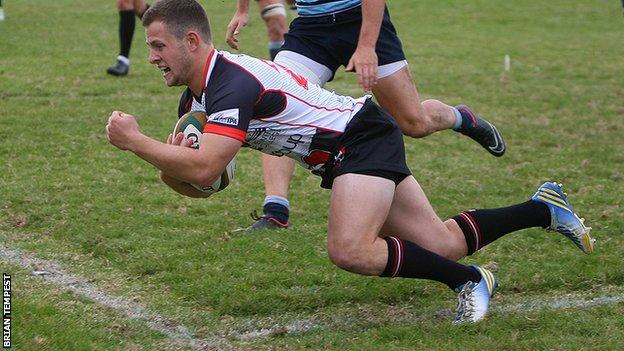 Cornish Pirates are to seek legal advice after being docked the seven points from their first British & Irish Cup match with Bedford for breaching rules on replacing injured forwards.
Pirates after fly-half Bertie Hopkin scored a late try.
But Hopkin came on to replace having already replaced two others in the front row.
The game went to uncontested scrums but Hopkin stayed on, when rules state Pirates should have played with 14 men.
A RFU disciplinary panel found that Pirates had broken the rules and docked them all the points they won from the match.
Rules on injured front row players
A club must have five suitably-trained and experienced front-row players available during a match.
If three of those players are forced off with injury the match must go to uncontested scrums, with the side whose players are injured being unable to replace the third injured front-row player.
"The panel was of the view that Pirates had breached Regulation 9.4 by replacing the player whose departure caused the uncontested scrums and thereby having 15 players on the field of play when they should have had only 14 men," the RFU said in a statement.
"The sequence of events and the regulations meant that Pirates should have played with 14 men for the period of time from when the match went to uncontested scrums.
"Whilst the panel accepted that the match officials should have noted the extra man on the pitch, or did not realise Pirates should have only had 14 men present, this does not change the fact that Pirates are ultimately responsible for compliance with regulations and for the breach of those regulations.
"This approach is entirely consistent with other decisions such as in the Bristol v Bedford case in the 2013-14 Championship.
"The panel considered the sanctions available to them as set out in Regulation 9.5 and took into account previous cases involving similar breaches."
The RFU have now changed the result to a 34-28 win to Bedford, meaning the Penzance-based club have lost their opening two matches in the competition.