Gareth Davies: New Welsh rugby chairman in call for unity
Last updated on .From the section Welsh Rugby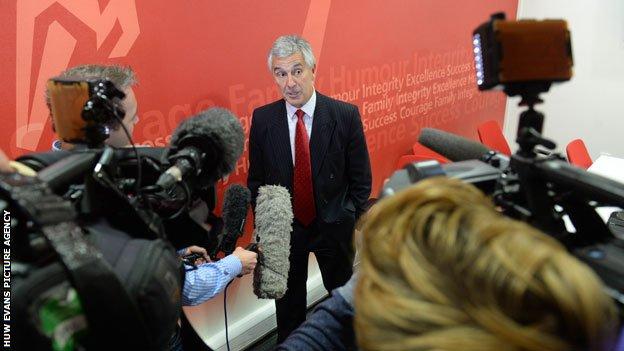 New WRU chairman Gareth Davies says those involved in the game have to work together for the sake of its future.
Davies was on the opposing side to WRU chief executive Roger Lewis during a protracted row over the future of Welsh rugby, but says that is in the past.
"I've known Roger for a number of years and we have to make it work," he said.
"I think we have to get on with it now. It's not just a case of forgetting past differences - if there were differences - we have to work together to make things work."
The disagreement over the running of the game in Wales came to an end with the signing of a £60m deal in August 2014.
Davies was elected to the board of the WRU in September when Pickering failed to gain re-election after 11 years as chairman.
When Davies put his name forward for election in August he claimed Welsh rugby was regarded as a joke in England in the midst of the dispute between the nations' regions and the Welsh Rugby Union.
And in interviews on BBC Radio Wales the day after his confirmation as chairman, he said he stood by those words.
"I make no apologies for saying that because that's what people are telling me," Davies told the Good Morning Wales programme.
"It's fine to have your own propaganda and your own publicity machine but I think we have to listen to people as well.
Gareth Davies factfile:
Age:
59
Playing career:
Oxford University, Cardiff RFC, Wales (21 caps), British and Irish Lions (1 Test)
Professional career:
Deputy Director of CBI Wales
Head of Sport, BBC Wales
Chief Executive, Cardiff RFC
Commissioning Editor for Sport and Events, S4C
Chairman, Sports Council for Wales
Director of Welsh Affairs, Royal Mail
Head of Australasia, International Business Wales
Dean of the Carnegie Faculty at Leeds Metropolitan University
Chief executive, Newport Gwent Dragons
"I had three emails last night [Tuesday] from governing body personnel saying 'great that you're on board, but there's a hell of a lot of work to do to in building relationships'.
"We have to get on and do that. It's not anybody's fault, you know life develops, people fall out with each other, but we have to move on now and we have to start building bridges again."
Davies said he had a 20-minute meeting with Roger Lewis on Tuesday and will meet him again on Friday morning "for me to become better informed where we are in certain areas."
He also expects the elected board of the WRU to take a higher-profile role in future.
"My sort of mantra is the executive should manage and perhaps the board should lead and I think, not wanting to sound critical, but perhaps people have felt generally there has perhaps been a lack of leadership amongst the board across Wales.
"I think the board itself has a very important role to play in basic elements such as communication and just keeping people informed and alerting them and the executive I think to the real issues facing the game.
Regional Rugby Wales on Davies' appointment.
"It is a primary responsibility for any organisation to ensure that its leadership achieves the objectives agreed by its shareholders and stakeholders. For both reasons, we commend the board of the WRU for taking into account the views of the community clubs as the shareholders of the union and appointed Gareth Davies to the role of chairman of the board of the WRU. We look forward to working with Gareth and the board of WRU to contribute and strengthen the foundations of our game in Wales - building participation, enjoyment and performance at every level of the sport."
Read more
"You can't argue with the financial performance [of the WRU], you can't argue with the performance of the national team, but there have been other obvious issues that have been challenging and one of the major concerns is the game itself and the way society has changed," added Davies.
"People don't automatically play rugby these days, when I grew up everybody wanted to aspire to be a Welsh rugby international, now there are less people probably want to do that because it's such a competitive world in which we play.
"So there's a lot of work to be done at that sort of grassroots level because the top of the pyramid is only as strong as the number of people you can have playing further down.
"If kids of eight, nine, 10 or 11 aren't engaging in the game now then all we're doing is saving up a problem for 10 years' time."