Champions Cup: Clermont's Julien Bardy handed five-week ban
Last updated on .From the section Rugby Union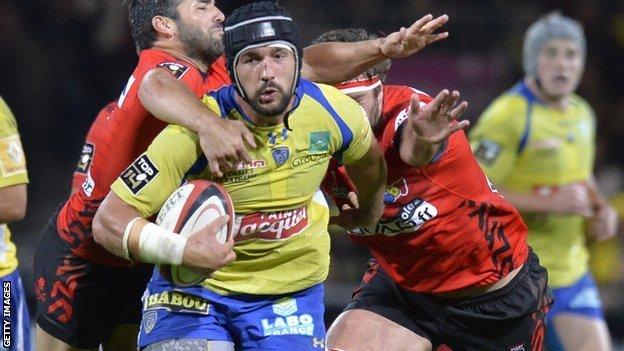 Clermont's Julien Bardy has been handed a five-week ban for hitting Saracens' Billy Vunipola with his knee in the 30-23 Champions Cup defeat on Saturday.
Bardy, 29, pleaded guilty to a misconduct offence at a disciplinary panel in Dublin on Thursday.
The suspension will run over a seven-week period to take account of two weeks when Bardy would not have played.
The Portuguese flanker, who has no right to appeal against the decision, will be free to play on 8 December.
Bardy breached Law 10.4(a) which states "a player must not strike an opponent with the fist or arm, including the elbow, shoulder, head or knee(s)."
Judicial officer Simon Thomas said the offence warranted a red card and an eight-week ban, but took into account the player's guilty plea, clean record and remorse during the hearing.