Drugs in sport: Rugby's governing bodies keen to discourage doping
By David Lockwood & Alex Capstick
BBC Sport
Last updated on .From the section Rugby Union
A year ago, 19-year-old Sam Chalmers was on the verge of following his father Craig into a career as a professional rugby player.
Early next month, the Rugby Football Union (RFU) is scheduled to announce its annual figures for doping offences.
The changing nature of the professional game, with bigger rewards offered and larger player physiques preferred, combine to add pressure on those teenagers trying to make it to the top of the game to bulk up.
Rugby union currently hands out more bans than any other sport in the UK - more than cycling and track and field combined.
UK Anti-Doping current sanctions by sport
Rugby union - 13
Rugby league - 5
Weightlifting - 5
Professional boxing - 5
Athletics - 4
Cycling - 2
With the World Cup less than a year away, the game is under the spotlight, and the RFU and International Rugby Board (IRB) are keen to keep up the pressure on dopers.
Chalmers, whose father Craig played 60 times for Scotland between 1989 and 1999, tested positive for two anabolic steroids at a Scotland Under-20 training session in May 2013. He bought his drugs online, where they are freely available.
"I'd been getting under pressure. A lot of people say you've got the skills and stuff - you just need to put on weight, get bigger," said Chalmers, speaking on behalf of an IRB educational campaign.
"One day, I just thought I'll get what my friend's taking. I didn't look into it; I didn't think about it at all, the effects or if it could hurt me.
"But when you want something so bad, you'll do anything."
Chalmers' story is now being used by the IRB in an educational video to promote awareness around the world.
The RFU say they are "at the forefront of anti-doping education" and aim "to protect the spirit of rugby from being undermined by doping and to protect the fundamental right of players to participate in doping-free sport".
A recent study in South Africa shocked the World Anti-Doping Agency's director-general David Howman.
"We've encouraged the South African Institute for Drug-Free Sport to run a pilot study in South African schools, and I was told about the results the other day," he said.
"There were 12 positive cases out of 52 collected samples. That's horrendous, and they were all steroids.
"So there's a snapshot if you like, and I suspect it would be similar in other countries.
"What we are worried about is the kids coming out of school seeking professional contracts, or positions in academies and so on, taking short cuts by using drugs."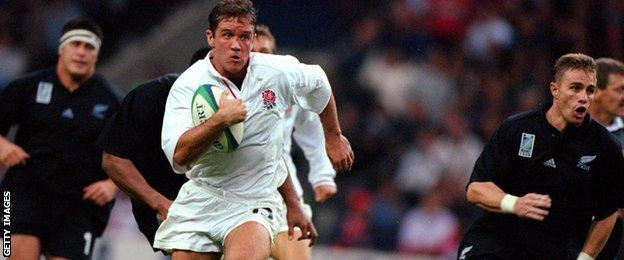 Efforts are being targeted at rugby-focused schools and colleges like Hartpury in the west of England, which has a history of providing players for Gloucester RFC.
The college had its own doping case last year, something that the former England captain Phil de Glanville, currently Hartpury's director of elite sport, is keen to avoid happening again.
"With the professionalism, and the potential career, there's probably more of it going on than there was - that's why it's so important that we get the testing and the education right to try and minimise it," de Glanville said.
"They don't know the impact in their bodies of what they're taking; they don't know the impact on their careers if they get caught. They've just got no awareness of that whatsoever, and that's what we've got to start with."
For those striving for a professional career the message from the IRB is that the potential rewards aren't worth the risk.
Chalmers says he deserved the IRB's two-year ban but feels bereft at his exclusion from the sport.
"I cheated, I took the easy option. You just can't do it, because it will come back to bite you," Chalmers admits.
"There's just a bit of a space missing in my life at the moment. No matter what the weather is, if it's snowing, rain, hail, you just want to get out there.
"You don't realise how much you miss something until you lose it, and that's kind of how I feel."