Sam Burgess: Bath signing unsure over rugby union debut date
Last updated on .From the section Rugby Union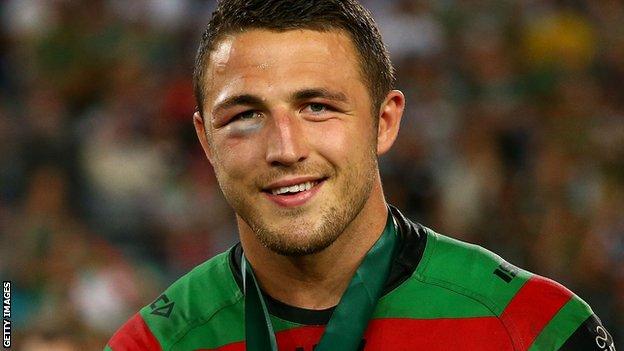 Sam Burgess is unsure when he will make his rugby union debut as he prepares to leave Australia to join Bath.
Burgess needed surgery after fracturing his cheekbone playing for South Sydney Rabbitohs in the NRL Grand Final.
"The surgeon is quite wary and keen I lean towards the longer term rather than sooner," he told BBC Sport.
"Most of the swelling has gone and there's a little scar. The surgery went well, but the surgeon had to do a bit of work in there."
Burgess was a spectator as brothers George and Thomas helped England beat Samoa 32-26 in the opening match of the Four Nations in Brisbane on Saturday.
While the Rugby League International Federation's International Player of the Year is sad to be leaving Australia, he is looking forward to meeting his new Bath team-mates.
"I'm going to go over there and enjoy the first few weeks getting to know everyone while I continue to recover and then crack on with some hard work," he added.
Burgess also refused to be drawn on suggestions that once fit, he could make a claim for England's 2015 Rugby World Cup squad.
"I have given myself no expectations," he said.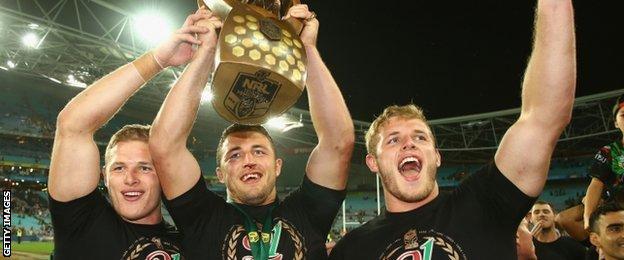 "First I have to go there and gain the respect of my team-mates at Bath.
"I'm switching codes. There are things I'm going to have to learn and I understand that.
"Realistically, I'm starting right at the bottom of the pile again and I'm going to have to work very hard."
Burgess, a forward in league, is expected to play at centre once he settles into life at the Recreation Ground, but is open to alternatives.
"I really don't have a clue," he added.
"I'll get there and get in to training and we'll see what's best."