Women's rugby: England's World Cup wins, 20 years apart
Last updated on .From the section Rugby Union
"Playing for England back then, you'd get a letter telling you where to turn up and how much you'd have to pay for your shirt."
The recollections of 1994 Women's Rugby World Cup winner Nicky Ponsford tell a different story to the experience of the class of 2014.
The news of England beating Canada 21-9 in the final in Paris in August was told on radio and television as well as being splashed on the front pages of newspapers.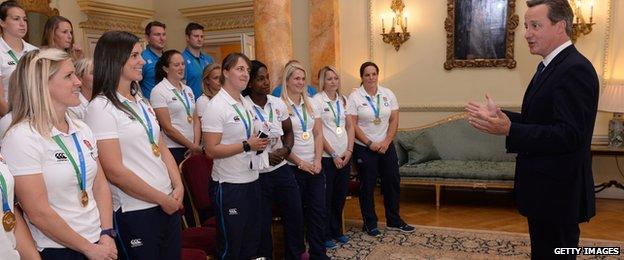 The media interest in the 1994 success wasn't quite up to the same standards, the news of England beating the United States 38-23 at Edinburgh Academicals RFC mostly tangential to the sporting world.
Ponsford, who played at hooker in the 1994 final, wasn't even asked to do any interviews after the final whistle or in the weeks and months afterwards.
However she doesn't begrudge the lack of fanfare.
"At the time, women's rugby was still a really young sport," she said. "It was still emerging and it was only the second time we'd had a World Cup.
"We weren't getting much media coverage, so I don't think a lot of people knew about it."
| England's 2014 World Cup glory | |
| --- | --- |
| Group stage | Beat Samoa 65-3 |
| Group stage | Beat Spain 45-5 |
| Group stage | Drew with Canada 13-13 |
| Semi-final | Beat Ireland 40-7 |
| Final | Beat Canada 21-9 |
The 2014 XV were still amateur but the attitudes to the sport had changed. The England team were professional in everything but name.
"We get strength and conditioning, physiotherapy, psychology," said England and Lichfield centre Emily Scarratt. "All of those things we now have access to ultimately help us to go out and just play rugby."
The 1994 side had funded their own World Cup trip. "That's just how it was back then," explains Ponsford, who now works as the head of performance at the Rugby Football Union.
Number eight Gill Burns was working as a teacher at Culcheth High School in Cheshire in 1994 and had to ask for leave to play at the World Cup.
She still has the letter from the headteacher granting her absence, though it clearly states "without pay". Also in her collection is the hotel bill, which she settled herself. Her 15 nights with breakfast and one phone call cost £801.62.
Many of the 2014 team also took unpaid leave from their jobs, but they play in a different era.
When number eight Sarah Hunter was asked how she funded her trip to the World Cup, she smiled and explained: "You name it, everything was done. We just had to fund our coffee trips and sneaky chocolate bars."
Hunter and Scarratt admit regret in knowing very little about the 1994 team, but for that they can be forgiven. Both were too young to remember the event, let alone attend. Yet their achievement in Paris is a tribute to all the teams before them.
Giselle Mather, who now coaches at London Irish, is not jealous of the 2014 team, and said: "If you speak to any of our era we are proud of them. What we were, we were then and we're just pleased the sport has built and built."
Part of the building blocks is the RFU's promise of a legacy of the 2014 victory. The great and the good from women's rugby visited the Houses of Parliament in September to help launch 'The Strategy', a project that hopes to introduce the sport to 100,000 women and girls before the next women's World Cup in 2017.
The goal is to see 25,000 more women and girls taking part in contact rugby and the RFU is working with clubs up and down the country to help them build their women's and girl's sections.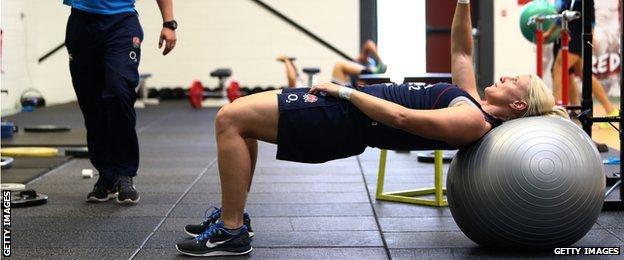 Hunter, who also works as an RFU university development officer, is keen to boost numbers on the ground for the future of the sport.
"We have to get more female players' hands on the ball and hopefully that will make the future stars," she said. "Then they will go on and represent England and hopefully win a few more World Cups."
England women's rugby is also dipping its toe in the world of professionalism - central contracts were handed out to 20 players as rugby sevens makes its debut in Rio in 2016.
It leaves many question over the immediate future of 15-a-side game, but gives great hope as to what can be achieved in the women's sport over the next 20 years.