Glasgow Warriors: Josh Strauss the colossus at team's heart

By Tom English
BBC Scotland
Last updated on .From the section Rugby Union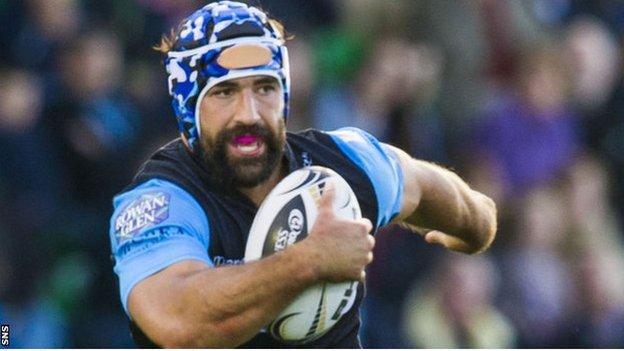 Josh Strauss tells a story about an engagement ring, a hot-air balloon and a spectacular loss of bottle. The Glasgow Warrior, a colossus of Gregor Townsend's pack, rubs his hands through the magnificence of his beard and laughs at the memory of it.
It goes back to his native South Africa, almost three years ago. He was a Golden Lion then. A Super Rugby player. Captain of a Currie Cup winning team and respected for his leadership and the attrition he brought to proceedings.
He'd taken his fiancée, Tami-Lee, to the outskirts of Johannesburg, to a place called Meerhof by the beautiful Hartbeespoort Dam. Up they went in the balloon, soaring high above the Magalies River Valley with views of Joburg and Pretoria in the distance. The setting could not have been more dramatic or romantic for a proposal.
"It was the most nerve-racking experience of my life," he smiles. "I had the ring in my pocket and I was going to propose to her, but I was so scared when we got up in the air that I just ended up clinging on for dear life to the side of the basket. I wasn't taking any chances.
Josh Strauss on being recognised more often in Glasgow
"Even since the beginning of this season I've had people shouting nice things out of car windows at me."
"There was a happy ending, though. When we got back to earth, I asked her to marry me. Thankfully, she said yes."
They're together now in Glasgow's west end. By his side in his home is their first-born, little Sadie, only six weeks old. Fast asleep and the apple of her father's eye. "It's like a kid raising a kid," he says of himself. "I was always in two minds about becoming a parent because I'm still a child at heart. But she's amazing. Just perfect."
Strauss has become an adored figure among the Glasgow support. A relentless operator. Brave, uncompromising and Al Kellock's deputy as captain. He's led Glasgow on six occasions this season already. On 19 September next year, he becomes eligible to play for Scotland on residency rules, which is handy given that Scotland's opening game of the World Cup, against Japan, takes place four days later.
It's been quite a journey for the big man. He talks about his late father, Gerhard, a prop with the Northerns club in Cape Town. He talks about his mother, Sugnet, an accomplished shot-putter and high jumper.
Sugnet, you sense, was his inspiration in life. A strong woman in every sense. In a country where rugby can dominate a young man's life, Sugnet saw things differently. She encouraged Josh to join the school choir and find his own way.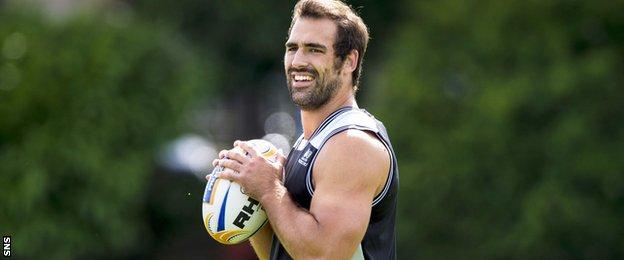 He was a decent player in school but lacked the single-minded focus to be a first-team player. He lacked the size as well.
Aged 13, he played against a team populated by beasts.
He recalled: "It was a trial for Western Province and there was one guy who was 6ft 2in and 14 stone. At 13! The thing about most of these kids, though, is that they grow up and they fall out of the system. I grew up and I fell into the system.
"I spent a year in France playing rugby when I was 20. I came back and played senior rugby for Boland and then got a trial for the Golden Lions. That was a big moment for me. If I didn't get picked, I was going to go back to university to do a bachelor of science. My dream, really, was to go to veterinary school. Since I was a little boy, I wanted to be a vet.
"It was a two-week trial. My last shot at being a professional rugby player. And I made it. It was kinda nice because my father was from the Joburg area and I remember watching matches with him as a kid and really liking the colour of their jersey and now I was wearing it. And then we won the Currie Cup and I was the captain and that was a very special moment because nobody expected us to do it."
Josh Strauss

Born:

23 October 1986

Height:

6ft 5in. Weight 114kg

Joined Warriors:

September 2012

Position:

Back row
Joburg was where he lived in those years, but it was never home. "Listen, I loved playing for the Lions, but Joburg is maybe not the safest place in the world," he explains. "The people are very nice, but it's not the kind of place that you'd want to raise your family.
"I was a Cape Town boy. I surfed when I was younger, I loved the Cape Town lifestyle. Joburg is an hour and a half commute in the morning. I was never one for big cities. If you were to give me one wish for South Africa, it would be for all the crime to be taken out of it. I'm sitting here in Glasgow and I'm always reminded of how safe it is here."
In 2012, his time with the Lions came to an end when they were relegated out of the Super 15. One night, in the midst of him pondering his future, his agent phoned to tell him that Gregor Townsend, coach of Glasgow, wanted to talk to him on Skype. He remembered Townsend from the Scot's time with the Natal Sharks.
He says: "The loose plan that myself and my wife had at the time was to go to France, because we both love the country. I had a few offers. But then I spoke to Gregor and then Glasgow sent somebody to South Africa to talk to us and I thought that was very impressive. So we came to Glasgow and it's been one of the best things we ever did."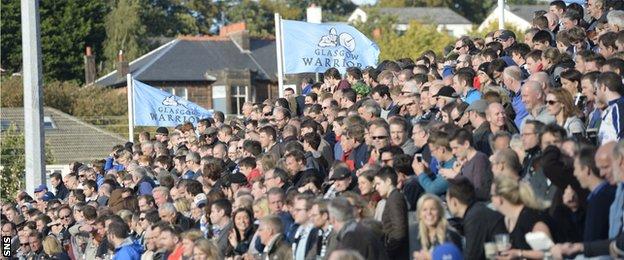 In the beginning, it was the strangest thing. Back home, rugby was a religion and the devout were not slow in telling Strauss what they thought of him, good and bad. In Glasgow, there was anonymity. Nobody knew him and nobody cared.
He continues: "It was two different worlds. I'd meet people socially and they'd say. 'Where's your accent from?' and I'd tell them I'm from South Africa. Then they'd say 'What brings you to Scotland?' And I'd explain that I'm a rugby player with the Glasgow Warriors. And they'd be confused. They'd say 'is that professional? Do you actually make money from that?' So it was an entirely new culture. But I can see it changing.
"It's never going to be as in-your-face as South Africa, but even since the beginning of this season I've had people shouting nice things out of car windows at me. 'Well played on the weekend! Good luck next week!' And I've had people coming up and saying hello when I'm unloading stuff out of the car.
"The acknowledgment is really nice and it's a sign that we're really moving forward as a club."
Of course, in recognition terms, the beard helps. There are not many 6ft 5in guys knocking around Glasgow with such a splendid thatch on their chin. It's a bit of a trademark at this point.
"It goes back to my days in high school when we had to be clean-shaven every single day so, for me, that meant shaving every single day.
"When I left high school, I couldn't wait it to let it grow. Me and some friends had a competition to see who could go the longest without shaving or cutting their hair. After seven months, the other lads cracked. I won."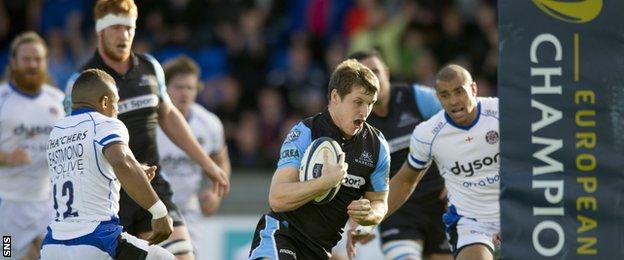 This is Strauss's third season with the Warriors and he's excited about what lies ahead of them. He's seen Finn Russell, Mark Bennett, Adam Ashe and others develop into top-class players with, he's convinced, big international futures awaiting them. That's a world he might well inhabit himself come September.
The giant coincidence, of course, is that South Africa are in Scotland's pool next year. "I knew about the residency rule when I first came here, but I never gave it much thought," he says.
"For me, it was all about settling in with Glasgow and proving myself. Playing in a World Cup would be incredible, but we don't know if that's going to happen.
"People have asked me about it and whether I'd be conflicted playing against South Africa. I still think it's a long-shot, but I wouldn't be. I tried to become a Springbok but it never happened. That's the way the cookie crumbles.
"Would I have a problem playing against them? Not in the slightest. Would my family have a problem? Not a chance. They'd be hugely proud if I ever played for Scotland.
"I'm not sentimental about it being my old country. I love Cape Town and it will always be home, but if you're selected to play for a team then you play as hard as you physically can and it doesn't matter who you're playing against. You focus on your own team, your team-mates, your friends. That's the way it is. "
That's the way it has been in his time in Glasgow. He's been an unyielding presence in that back-row. Consistent and resolute. In explaining Glasgow's improvement, he practically name-checks every player, every coach and every supporter who comes through the gate at Scotstoun.
Team effort, he says. Quite a team and quite a leader at the heart of it.