BBC Sport - Miskimmin pleads to take penalty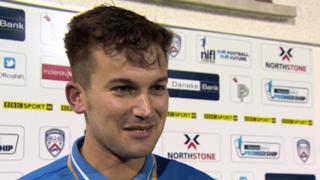 Miskimmin pleads to take penalty
Coleraine striker Mark Miskimmin has a team-mate to thank as he scores his first ever senior hat-trick.
Neil McCafferty usually takes the penalties for the Bannsiders but stood aside to let Miskimmin convert his third goal in the 4-0 victory over Institute.
"He is away with my money to buy himself a beer," joked former Linfield player Miskimmin.