Mike Blair: Form is key for Scotland in autumn Tests

By Mike Blair
Former Scotland scrum-half
Last updated on .From the section Scottish Rugby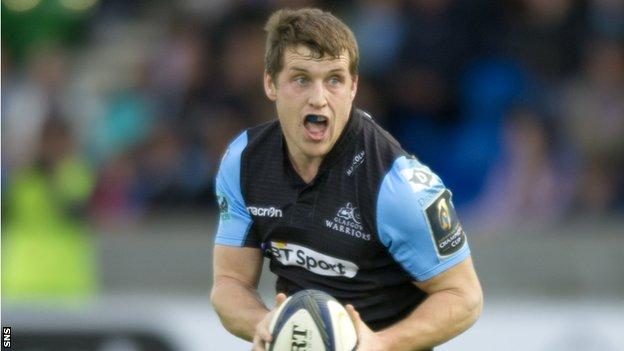 Form of players is key going into an international series.
It comes from confidence; confidence comes from knowing your role and responsibilities within a teams structure that allows you, individually, to play your natural game and play to your strengths.
Mark Bennett is a classic example of this. He is a form player making his debut this weekend.
One of his strengths is his ball carrying in tight areas, particularly dropping under the fly half on the 'cut', challenging the 'link zone' between the forwards and backs in the defensive line.
Also, on counter attack, he drops back into the wing position where his pace and short kicking game has been a feature of Glasgow's attacking game.
Hopefully, to enable Bennett to play with confidence in his first cap, he will be given the freedom to execute these strengths within the Scottish attacking structure.
Alex Dunbar and Tommy Seymour are exciting selections too.
Seymour is arguably the best performing home-based player so far this season and as well as his speed, elusiveness and strength, his impressive kick-chase of box kicks will be key.

This is a back-line that has "x-factor" and the ability to create something from nothing but there is a bit of inexperience here too.
This is where Greig Laidlaw comes in - he is like the sensible older brother who has the ability to calm everything down.
He can revert to structure, play in the right positions in the field and keep a cool head whilst the proverbial fireworks are going off.
When the game breaks up a bit Henry Pyrgos will challenge the tiring Argentinean forwards around the breakdown as he's done so successfully for Glasgow this season and in his past two Scotland caps.
Managing the Scotland backline is one of Vern Cotters key jobs.
Only Laidlaw at scrum-half doesn't play for the high-flying Glasgow Warriors, so the balance is using this familiarity as a strength but also being able to impose what Cotter wants from a Scotland perspective without confusing styles and roles.
Attacking-wise, I understand that structures have been put in place but the emphasis is playing heads up rugby, which is refreshing.
Giving the defence similar attacking pictures but allowing the individual to choose the right option within the structure.
Every player is an option and every play is a scoring opportunity.
Scotland have played with a very deep defensive zone over the last 18 months or so, having a kicking mindset right up to their 50m line and it will be interesting to see if there is any change here.
Mike Blair
"Attacking-wise, I understand that structures have been put in place but the emphasis is playing heads up rugby, which is refreshing."
It is often easiest to attack from in your own half as opposition wingers sit back waiting for kicks.
I like the look of the back five of the Scottish pack.
It is made up of athletes with power, speed and a good dose of gnarlyness.
Blair Cowan has been eye catching at the breakdown in the Aviva Premiership for London Irish and Rob Harley's boots get in the way of opposition scrum-halves so often that you would think he was wearing a size 16.
This Argentinean team is different in personnel and in terms of organisation than anything Scotland have faced before.
They will have a very similar team to that playing in the Rugby Championship against Australia, New Zealand and South Africa - although have a huge absence in injured number eight Fernandez-Lobbe - and significantly, they have been playing and training together for a two month period from August-October.
This means that they will have continuity in selection and the opportunity for coach, Daniel Hourcade, to develop their game from the traditional slower-paced, set-piece dominated, kicking game plan into a game plan than makes the most of the ever improving mobility and skills of his countries athletes.
If it's a dry day (and it's November in Edinburgh so why wouldn't it be?) then I believe that both these teams will want to play a fast, open game.
The newly laid pitch should also help with this, but as always if there is a large disparity in strength in the set-piece then this is what will decide the match.