Scotland v Argentina: Finn Russell dancing to keep feet on the ground

By Tom English
BBC Scotland
Last updated on .From the section Rugby Union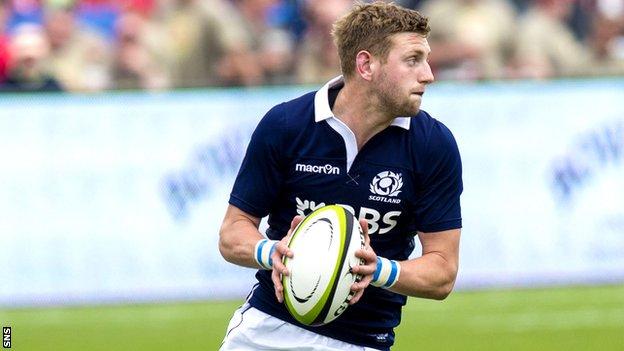 Autumn international: Scotland v Argentina
Venue
: BT Murrayfield
Date:
Saturday, 8 November
Kick-off:
17:30 GMT
Coverage:
Live on BBC Two, BBC Radio Scotland & online, plus live text commentary on the BBC Sport website
It says here that Melbourne Bounce is an up-tempo, horn-infused, Dutch house style music which fuses elements of acid and psytrance (whatever that is). In case you're not up to speed, it is, ahem, a descendent of electric house with inspiring party-hardy jams and goofy, fun-loving sensibilities. Or to put it another way, it's a bit of a racket.
This is where we've got to with Finn Russell - his pre-match routine.
He says something about his flat-mate, Adam Ashe, mixing on his decks at home and you nod as if you have the first clue what he's going on about. Then he launches into his tune of choice in the minutes before a big game.
Again, you nod sagely. Melbourne Bounce? Oh aye. Can't get enough of it.
"It's quite dancey," says Russell, 22-years young and about to win his third cap for Scotland and his first at Murrayfield.
"It'll be hard to freeze out the occasion against Argentina but I'll do what I usually do. In the build-up I'll keep my headphones. If you look at me in the warm-up you'll see me dancing. That's my routine. It's about trying to stay chilled."
He calls all of this surreal, like he's living somebody else's life. As a kid, he would go to Murrayfield and watch internationals, as many of his team-mates would have done. He dreamed, just like they all did. He never thought the dream would become a reality, but here it is.

He doesn't recall particular games at Murrayfield, just the noise. Wave upon wave of noise.
Two years ago he was playing in the World Junior Championship in Cape Town, South Africa and he had Mark Bennett as his midfield partner in a pool game against Argentina. They've both moved up together. Russell will play stand-off on Saturday, Bennett will make his debut in the centre, both of them hoping for something better than that five-point loss to the young Pumas two summers ago.
The new international season is upon us. There are plenty of newish faces in the Scotland team and some nice back stories on how they got there. Russell's takes some beating.
He left school in fifth year to train as a stonemason, all the while trying, and failing, to make it with Stirling County. He went to Falkirk in search of a first-team place in the senior side - and he found it. It was a lower league but that didn't matter. They got relegated ever lower but that didn't matter either.
He was learning. That was the important thing. Some great coaches, some terrific team-mates. Falkirk was an important part of his rugby education, a schooling that continued last year when he departed to Christchurch for a three-month rugby scholarship at Canterbury's International High Performance Unit.
"It was the John Macphail scholarship and I went with Sam Hidalgo Clyne (of Edinburgh)," Russell explains. "I played for Lincoln University and had Jason Holland, the former Munster player, as my mentor. Those months taught me so much. I was playing, I was taking responsibility for running games, I was learning about leadership and controlling situations. This was only last year."

The rapid progression in his career brings a smile to his face. Twelve months ago he sat on the bench for Glasgow as an unused substitute against Connacht in the Pro 12. At the end of that November he started his first match for Gregor Townsend's side in a heavy home loss against the Dragons.
It was only in the spring of this year, when Glasgow's international contingent were playing in the Six Nations, that he got a chance in the team.
Somebody told him that this was his moment and that he had to take it. And he did, in a major way.
"In the middle of February we played Cardiff away in the Pro 12," he recalls. "I was on the bench but I came on early in the second half, kicked some goals and did well. That was a huge day for me because I felt like I could handle it and I got another run the following week and then another.
"Gregor (Townsend) was brilliant with me. I wasn't thinking of international rugby at that point but when you're managing to get in the team ahead of brilliant players like Duncie (Duncan Weir) and Jacko (Ruaridh Jackson) then I knew I was heading in the right direction.
"Then it got to the last games of the Pro 12 regular season and then the semi-final and final and I'm still in the team and the confidence that gave me was huge."
Townsend knew what he was doing. He recognised Russell's ability to stay in the moment and control a game. It might not have brought silverware to Scotstoun but this past year has delivered a stand-off to Scotland. And Saturday is another milestone in his whirlwind journey.

"It's hard to know what my mum and dad (Sally and Keith) will be thinking when they see me at Murrayfield but they'll be proud," he said. "My dad coached me a lot but mum says I got the talent all from her. My brothers and sister have been fantastic. Harry plays for Falkirk and Archie plays for Stirling County and Jessie, who's the youngest at 16, is our greatest supporter."
The feelgood is understandable and deserved but there's big work to be done against Argentina and Russell knows what kind of challenge awaits.
Not so much the one-dimensional Pumas of old, but a more balanced threat, a team that can hurt you with their pace as much as their brutality. This is a coming Argentina outfit. New and improved.
"We know how hard it's going to be, but we have to be positive," he continues. "That's one of the things that Vern Cotter is very big on. Positivity. Try things. Back yourself. Make things happen when you see an opportunity. He's empowered the players to go for it when we think it's on and that's a great mindset."
Russell has played two for Scotland and has won two. Without wanting to sound disrespectful to America and Canada, they were mere warm-ups in his Test match career. The really serious stuff begins now - and he's ready.