England come unstuck against classy New Zealand

By Tom Fordyce
Chief sports writer
Last updated on .From the section Rugby Union646
Don't take too much notice of the scoreline. This might look like a three-point game, but the difference between England and New Zealand is several degrees bigger than that.
There is no single reason why the All Blacks have lost only twice in 47 matches, but several of them were on display in a rain-drenched second half at Twickenham: an ability to seize control when it matters, a ruthlessness in attack, a great bank of experience to summon in strife, an instinctive understanding of what to do in which conditions.
These were no great revelations in the autumnal rain of Saturday afternoon. What we saw was what you expect when a side with 359 caps comes up against one with 759, and when the one with 759 has 264 more on the bench to their opponents' 78.
England were exceptional for the first 10 minutes, pretty good for the next 30 and then in trouble for the next 40.
Missing six British and Irish Lions from their pack, they competed with distinction at scrum and line-out. They also struggled to impose any real attacking threat, kicked from hand with a little too much inaccuracy and tried sometimes to do too much when too little was on.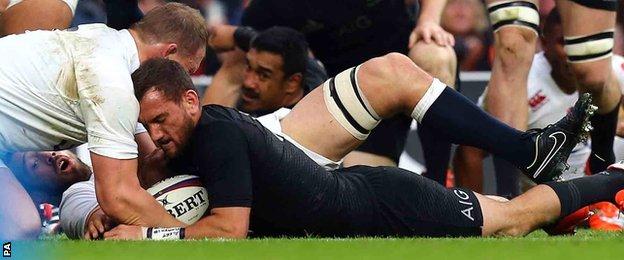 There were a handful of what ifs - curious refereeing decisions, not least Nigel Owens opting not to call upon his television match official when Aaron Cruden's burrow appeared to have come up a finger short of the try-line, Mike Brown spilling a try-scoring pass that could have given England a double-digit lead before the All Blacks had made acquaintance with England's 22.
But they were few compared with the cold logic of New Zealand's eventual, and comfortable, victory. And the capacity crowd knew it, even if they booed Owens as loudly as they had roared Sweet Low to drown out the slaps and shouts of the haka before the battle began.
England have now lost four matches in a row for the first time in eight years. There should not be too much wailing in the shires; when you choose to test yourself repeatedly against the best, the best are likely to show you what they can do.
What is of concern is that the gap does not appear to be narrowing fast. England were closer in greater defeat a year ago, closer still in late loss in the summer's first Test.
Back then they were the well-travelled side coming up against a squad that had been together for only a week or so. This time the roles were reversed; the All Blacks were instinctive and interlinked in all they did, England sometimes unsure at the critical moment and unfamiliar at others.
Never was the gulf more visible than when the sin-binning of hooker Dane Coles with 24 minutes to go gave England a numerical advantage and a chance to seize the day.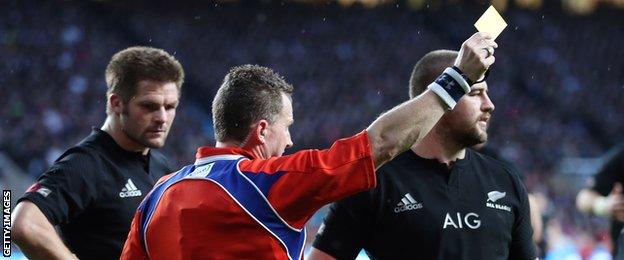 Instead they could barely grab the ball, the All Blacks keeping a calm control as the seconds frittered away, England kicking back possession when they did finally take it back.
"The reality is that we won the game in those 10 minutes," said coach Steve Hansen afterwards.
"What pleased us most is that our guys showed the fortitude required. We won that period 3-0 and that hurt England."
There was some cheer for his opposite number - Julian Savea being kept tryless after scoring eight in his four meetings with England, Jonny May's first international score with that scything run through the surprised All Blacks rearguard with seats barely in contact with backsides.
And then there are the stats. For all the Six Nations improvements (three second places in three years) under Stuart Lancaster, England have only won two of their 12 matches against the three southern hemisphere heavyweights.
There is no shame in that. Since taking charge of Wales, Warren Gatland has won only one of 26 against the same opponents.
These are the chill winds that autumn brings. By six o'clock on Saturday night, 115 matches between Six Nations teams and the big three - add Australia and South Africa to the world champions - since the 2007 World Cup had brought exactly 100 defeats for those in the north.
Will it change in the months before the next global coming together?
There are 357 days left between now and the World Cup final, depending on whether you are reading this on the soggy eve or the chastened morning after.
At the same point before their victory in the 2003 tournament, England were beating New Zealand, Australia and South Africa with a combined points tally of 116. At the same stage before reaching the final of 2007, they were being dismantled by the All Blacks, Springboks and Pumas.
Steve Hansen, as cussedly laconic in victory as always, was having nothing of the auguries.
"There are a lot of people talking about the psychological advantage. We think that's baloney," he said.
"There's no advantage if we don't get to the stage of playing them. The World Cup isn't about one team, it's about five or six. If you haven't got your ducks in a row you don't make it.
"Today is about winning today. World Cups have shown us time and time again that prior advantage goes out of the window. There is a round-robin group to get out of. Hopefully we qualify."
The reassuring news for Lancaster, after five defeats at the hands of Hansen's team in 12 months, is that England can't meet New Zealand again any earlier than the World Cup semi-finals.
Former England star Matt Dawson's analysis
"There are a lot of positives from the first half for England. Up until the last minute, England didn't score a point in the second half, they didn't get into the right areas. It was as if they stopped playing and New Zealand came on.
"They lacked the physicality and experience and the New Zealand bench told.
"I am confident that England can win in the World Cup against anyone. When the players are fit and the coach Stuart Lancaster works out what to do with the midfield. There is no question they can compete."
The concern is that the challenges are only going to get fractionally less disturbing.
"We've played the number one side, who have had two and half months together, and now we're playing the number two side who have just beaten the number one side," said Lancaster afterwards, looking ahead to the Springboks' visit next Saturday.
"We've played New Zealand four times now and we haven't got the result. But we know we're not that far away. We're not going to deviate from the path we're on because we believe in what we're building.
"They have played eight games since we played them, and we put them under pressure and forced some errors.
"But they have the experience and caps to close out a game. And that's what we need to get."