Plymouth Albion: James Shanahan says results will improve
Last updated on .From the section English Rugby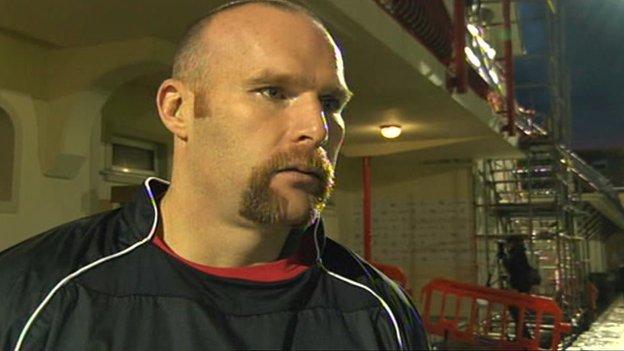 Plymouth Albion head coach James Shanahan insists that his side's fortunes will turn around, despite going down to their 16th successive defeat at Jersey in the Championship.
Albion and are five points adrift at the bottom of English rugby's second tier.
"I know results will come, it's just that we've got to keep working hard," Shanahan told the BBC after the loss.
"Jersey deserved the win, but I don't think the score was a fair reflection."
The loss means Albion have lost back-to-back games with Jersey after their 22-16 defeat in the British and Irish Cup last month.
"I thought the score was a bit harsh," added Shanahan. "But at the moment, when you're bottom of the league, it's a harsh environment and you've got to fight and I'll continue to fight and work as hard as I can.
"We'll keep working hard and I know we'll get a victory. I'm sure people look at it and say 'when is it going to be?' We can only hope and focus on Worcester this week and do the best we can."