Paul O'Connell: Joe Schmidt praises Ireland lock's desire
Last updated on .From the section Rugby Union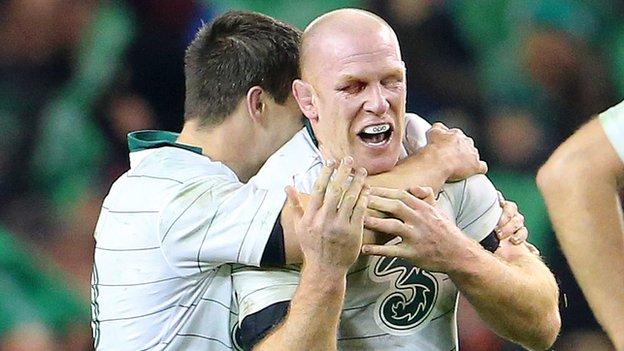 Ireland coach Joe Schmidt has praised Paul O'Connell's continuing desire to clatter his body through Test skirmishes in his country's cause.
O'Connell's display in Ireland's surprise 29-15 win over South Africa on Saturday led to Schmidt using the Maori term 'mana' to describe the lock, 35.
In common New Zealand parlance, the term means a person of great prestige and character.
"He's a guy who does not know how to give up," said the Ireland coach.
"He has an incredible amount of respect: a word that sums him up is that he's just got 'mana'.
"He prides himself on being as well prepared as he can be and he has massive respect within the group because of how he delivers.
"When he's done, he delivers again.
"Not many guys have the mental capacity that Paul O'Connell has.
"There are a lot of guys who physically get into good shape but he's one of the most mentally tough players I've been involved with."
O'Connell and Springboks talisman Victor Matfield spent the week's build-up trading compliments before conniving to get the better of each other at the Aviva Stadium.
Ireland and O'Connell subdued South Africa's maul just enough to prove pivotal to victory, with Rhys Ruddock and Tommy Bowe's tries backed up by Jonathan Sexton's 16 points with the boot.
Matfield may have edged the line-out battle, but Ireland boss Schmidt underscored his decision to select O'Connell as his captain by praising his enduring tenacity.
"He just makes sure he delivers every time," added Schmidt.
"I'm not sure myself how he does it, because I think I'd be crumpled and that would be at the start of the game.
"He just keeps going right through the game, that's why he has so much respect and that's why he's a genuine captain who leads by example."
Ireland face Georgia in Dublin on Sunday before closing their autumn series by entertaining Australia.
O'Connell and the majority of Saturday's side are expected to be rested for this weekend's game against the Georgians.