Ross Jones-Davies realistic about Jersey first-team chances
Last updated on .From the section Rugby Union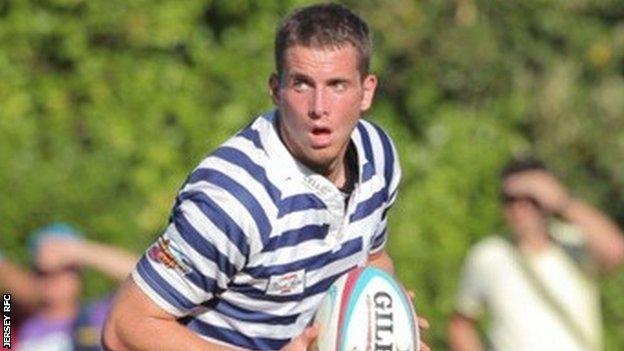 New Jersey full-back Ross Jones-Davies says he does not expect to go straight into the island's first team.
The 24-year-old South African signed his first professional deal on Tuesday after finishing his studies at the University of Cape Town.
"Being in training for the last couple of days you can see the level the guys are at," he told BBC Radio Jersey.
"I'm going to have to bide my time a bit, I think, and wait to get an opportunity whilst I'm settling in."
Davies has arrived following former England Under-20 international Tommy Bell's departure to Leicester last month.
He has yet to play professional rugby, but was part of the team that won the South African university title earlier this month.
His only previous experience of English club rugby was as a teenager, when he played for Cobham in London South West Two six years ago.
"There's a lot of players who are experienced pros and they know exactly what it takes to play at this level, so it can only be good for me to be surrounded by these guys and I look forward to learning from them.
"I just want to make that jump from being an amateur rugby player into a professional set up," he said.
Jersey director of rugby Harvey Biljon believes Jones-Davies has the potential to succeed at Championship level.
"We do a fair amount of analysis on players before we bring anyone in, it was probably six or eight games that we went through and how successful UCT had been winning the Varsity Cup, and it's very competitive rugby," Biljon said.
"He is someone who wants to develop in a professional environment and he fits our criteria, he's a young guy under the age of 25 adding pace and evasion to our backline, and someone who has got the ability to develop moving forward."