Dean Schofield: London Welsh can avoid Premiership relegation
Last updated on .From the section Rugby Union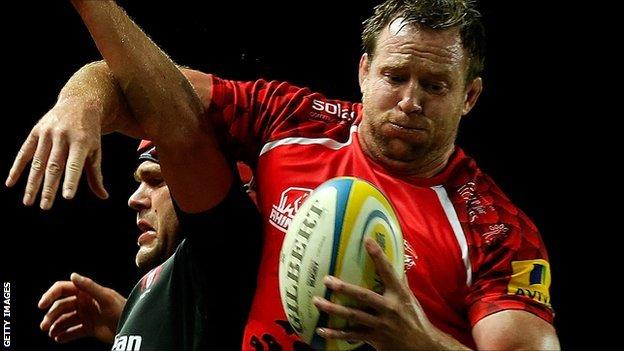 London Welsh second-row forward Dean Schofield says the club can still avoid relegation, despite their woeful start to the Premiership season.
Welsh were promoted from the Championship last season but lie bottom of the table and have not won a game in any competition this term.
Schofield says the team remain upbeat ahead of Sunday's trip to Wasps.
"No one is giving up. No one is talking about the 'r' word (relegation)," Schofield told BBC Radio Oxford.
"It's been a tough start, but we stay positive and dust ourselves down. It's a positive, encouraging environment but a good balance, in that we are critical of each other and brutally honest."
Schofield says the players are hurt by their start to the season but refuse to feel sorry for themselves.
London Welsh already adrift
London Welsh have taken a solitary bonus point from their first six matches of the Premiership season and are already eight points behind 11th-placed Newcastle Falcons.
"Results speak for themselves and the supporters are as frustrated as we are," he said. "We are not making excuses, we know where we are going wrong and we are working on it.
"No one is going to turn around the results for us, it's got to be collective. It's a long season, we are six games in, we have a big challenge at Wasps at the weekend and as long as we see an improvement we will be happy.
"We don't need reminding about it, we take it home every day. That is professional sport, you take pride in the job and it hurts and we have a tough month ahead."
The club recently appointed former Wales defence coach Rowland Phillips to help turn their season around, and Schofield is already seeing a difference.
"We are seeing glimmers of hope, he is settling the defence and we are making small improvements," he added.
"We get a couple of results and we are in the mix. Are we mentioning that (relegation) around the club? No. We'll let everyone else talk about that. You don't let that negativity creep in at all.
"You have top stay positive in these environments. You can't predict what is going to happen, we are going to stick to task and get ourselves out of this. We are just working hard with a smile on our face and that is all we can do."