Alex Cheesman: Cornish Pirates flanker set for lengthy layoff
Last updated on .From the section Rugby Union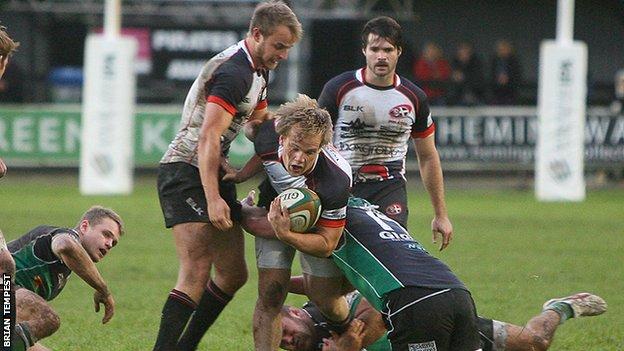 Cornish Pirates boss Ian Davies is not looking to sign any new players despite Alex Cheesman being ruled out for about three months.
The flanker, 26, dislocated his shoulder in the loss to Nottingham and will have an operation next week.
"I do not feel we need to bring anyone else in," director of rugby Davies told BBC Radio Cornwall.
"Joe Atkinson came in and was probably man of the match and Joel Conlon is available from Exeter as well."
Davies expecting a tough test against Rotherham, but is hopeful of seeing improvement from his team after a disappointing display against Nottingham.
"Clifton Lane is a very tough place to go. It can be very enclosed, the pitch can seem a lot smaller then it actually is. When the crowd get behind Rotherham they seem a lot bigger then they actually are," he said.
"We have got to do better then what we did last week. We were disappointed to a man that we did not perform.
"Nottingham won the collisions and you are not going to win rugby games if that happens. We were lucky to come second in lots of areas of the game.
"It is the old adage that we take each game as it comes. It is about improvement and we are hoping last week was a blip."