England v South Africa: Jeremy Guscott on beating the Boks

By Jeremy Guscott
Rugby union analyst, BBC Sport
Last updated on .From the section Rugby Union303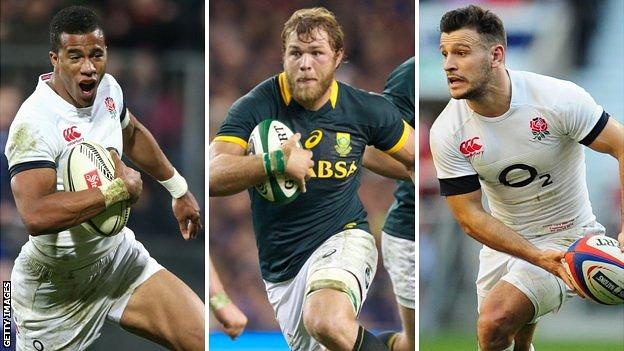 Autumn international - England v South Africa
Date:
Saturday 15 November
Kick-off:
14:30 GMT
Venue:
Twickenham
Coverage:
Live commentary on BBC Radio 5 live and full live text commentary online. Highlights on BBC Three at 19:00 GMT.
After four matches - and four defeats - in a row against world champions New Zealand, England will be hoping for a better result this weekend.
Standing in the way of Stuart Lancaster's men are the second-best team in the world and arguably the most physical of the top sides, South Africa.
In their past 11 meetings the Boks have beaten England on 10 occasions with a solitary draw preventing total humiliation.
England were impressive for parts of the first half in their 24-21 defeat by the All Blacks last weekend - can they deliver an 80-minute performance against the Springboks and halt their losing run?
First start for Watson
Anthony Watson won his first cap off the bench last Saturday but he played less than a quarter of the game, so in many ways this will feel like his debut.
I don't believe anything can prepare you 100% for the moment you first run out at Twickenham with the England team.
You hear the roar and it goes on for ever, you almost float out of the tunnel. At that point it's like nothing else you have experienced in your playing career - I loved it.
Before my debut a lot of players told me the game would go quickly and it did. You are so busy trying to think of everything you need to do and have such intense concentration that it naturally flies by.
I was listening, watching and waiting, desperate to get the ball. I wanted to score a try, make a tackle, chase a kick, be involved and make a difference.
Watson is unlikely to have a similar experience to me after my first game.
Just before myself and fellow debutants Simon Hodgkinson and Steve Bates were presented with our caps Roger Uttley, the former England captain who was part of the coaching staff, mistook my brother (who does look a lot like me) for myself and spent 20 minutes congratulating him on his performance.
Watson is a talented winger/full-back who has shown real pace and an ability to beat defenders, he scores tries and possesses good all-round skills.
He is very athletic and I think he can out-jump Bryan Habana, so I'd like to see England looking for the cross-kick as it could be very effective.
It's Watson's time to shine and I would tell him to strap in and enjoy the ride.
England must be inventive
In recent times I believe South Africa have had a forward dominance that England haven't been able to counter by going punch for punch - they have to do something different, lift the tempo and surprise the Boks.
Last weekend Ireland stunned the Boks 29-15. They put them under so much pressure and were quite outstanding at forcing turnovers, plus their inventive strategies in the line-out were genius.
On several occasions they didn't contest the catch so there was no offside.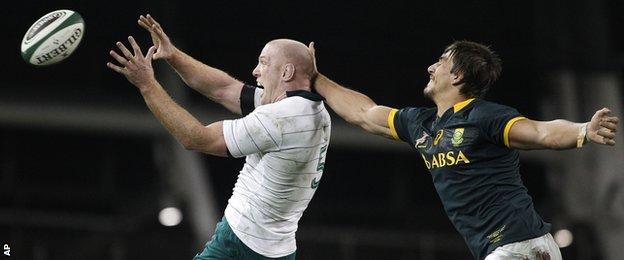 When South Africa got the ball to the back of an attempted maul, Ireland had a dedicated player whose job was to get straight round and tackle the player at the back of the maul and stop the driving maul at source.
Ireland boss Joe Schmidt is known for his inventiveness - like Sir Ian McGeechan was for Scotland - and I'd like to see some more of that from England.
An example is the two lines of attack they're using. You have four players in a diamond shape and the ball can go to any one of them, either flat or out the back, giving you lots of options.
The All Blacks can do it with every member of their team slotting into the diamond but England are not there yet, they can only do it with backs.
Development would be getting to the point when those four players can be any players, forwards as well as backs.
England need to use variation in the line-out and be dynamic around the park.
More of this please
David Attwood had a world-class performance against the best team in the world last weekend and he needs to reproduce that against arguably the best second-row partnership in the business, composed of consummate line-out operator Victor Matfield and the next young Springbok giant Eben Etzebeth.
Attwood only started against the All Blacks because Joe Launchbury was injured but if he has another stormer then how can you drop him?
When England have the ball in hand it would make sense for wing Jonny May, fresh from his stunning solo try against the All Blacks, to attack South Africa captain Jean de Villiers with his searing pace.
England's attacking line is well organised and they will no doubt put dummy runners in and around the Bok centres to hold them and look to release May or Anthony Watson out wide.
There's no doubt all outside centres will now be worrying about May getting any kind of space around that channel so they will rush up hoping to prevent the pass. If that happens then the ball inside or outside the dogleg will work.
Kick better and chase hard
I suspect scrum-half Danny Care was under the microscope because England need improved kicking from him to give themselves a better exit strategy than they managed against New Zealand.
His kicks were in the most too long, which gave the All Blacks' back three too much time to decide what to do. The line chase was also poor and England left spaces out wide which the New Zealand back three gobbled up - that must not happen again.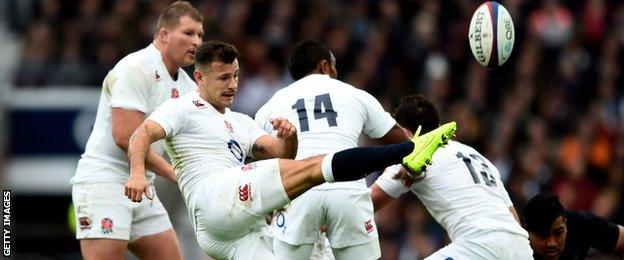 Care's kicks against the Boks must be high and contestable, or long enough to turn the defence and allow a pitch-wide England defensive wall to form to prevent any attacking yards being gained by World Player of the Year nominee Willie Le Roux, former World Player of the Year Bryan Habana or the recalled JP Pietersen.
England's quick line defence in the first half slowed considerably in the second half. Rather than get up quickly they held off, which only gave the All Blacks more time.
On a few occasions an England defender left the line, creating a dogleg, New Zealand spotted it and got in behind, scoring on two occasions - they must cut this out against the Springboks.
Big beast at eight
Number eight Duane Vermeulen has been South Africa's stand-out player all season.
The IRB World Player of the Year nominee is a one-man pack - he loves the physical challenge and thrives in that arena. It's another case of you know what's coming but it's difficult to stop, he's almost overwhelming in his appetite to carry the ball.
You can take it as a given that the Boks line-out and scrum will be drum-skin tight and it will be difficult to expose a weakness there.
They have a well organised line-out drive/maul which must be stopped legally very quickly otherwise they can start dictating the game with that alone.
England, like Ireland, must create organised mayhem when it's a South Africa throw at line-out time.
The dirty dozen? England's dire run

2014:

England v S Africa, 15 Nov

2008:

England 6-42 South Africa

2012:

England 15-16 South Africa

2007:

England 6-15 S Africa (RWC)

2012:

South Africa 14-14 England

2007:

England 0-36 S Africa (RWC)

2012:

South Africa 36-27 England

2007:

South Africa 55-22 England

2012:

South Africa 22-17 England

2007:

South Africa 58-10 England

2010:

England 11-21 South Africa

2006:

England 14-25 South Africa
The verdict
England's last four matches have all been against world champions New Zealand and, bar one blow-out, they have done well in terms of staying in the game, but this match is the big one.
Losing to the world champions is understandable but against the Boks they need a result.
England have a terrible record against South Africa over the past decade. They've not beaten them since 2006 - that's 11 games and a points difference of minus 198, although one of the matches was a 14-14 draw in summer 2012.
However, over the past four games there's only been a minus 15 points difference in total, so England look as though they are getting closer.
Losing on Saturday would put them under enormous media and public scrutiny and I don't want to contemplate that.
Prediction: England to win by a score.
Jeremy Guscott was talking to BBC Sport's James Standley.