How far away are England from winning the 2015 World Cup?

By Tom Fordyce
Chief sports writer
Last updated on .From the section Rugby Union403
Five defeats in a row. Only two wins in 13 matches against the three southern hemisphere heavyweights. A dirty dozen without a win against South Africa.
Stuart Lancaster cannot be entirely blamed for the last of those unhappy statistics but, after Saturday's 31-28 defeat by the Springboks, his near three-year reign as England coach is facing its first serious and sustained questions.
Here are a few of the buzzwords that you hear on a daily basis around this England team: decision-making, execution, intensity, culture.
So let us judge them on their own measures.
Decision-making? In heavy rain, England kicked from hand once in the opening 20 minutes.
Owen Farrell opted to run from deep with time instead to clear. Second row Dave Attwood opted to go alone when in space down the right with winger Anthony Watson screaming for the ball outside him.
The first cost them control as South Africa opened up a critical 10-point lead. The second cost them an unnecessary penalty and three points. The third wasted the sort of try-scoring chance that comes rarely against such opponents.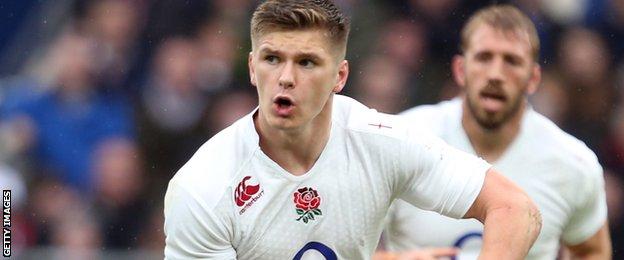 Execution? Danny Care, ponderous after a series of forward drives going nowhere, had his wobbly pass picked off by Jan Serfontein for a simple intercept try.
Billy Vunipola knocked the ball on three times in the first 20 minutes. Farrell, with England five points down late yet with time to win it, put his re-start out on the full.
Intensity? England's back row was out-muscled at times and indisciplined at others.
A healthy 65% possession and 72% territory in the first half was splurged on panic rather than points. Fourteen turnovers were conceded.
The sudden second-half fightback that saw 14 points scored in five minutes off driving mauls was both stirring and ultimately a smokescreen.
There are a paltry 10 games to go until the World Cup begins, and England - for all their apparent improvement since they bombed out of the last one - look less likely to win it than they did a year ago.
Put the right culture in place, goes Lancaster's defining philosophy, and the rest will follow. As the title of his favourite book has it, the score takes care of itself.
Except what happens when it doesn't?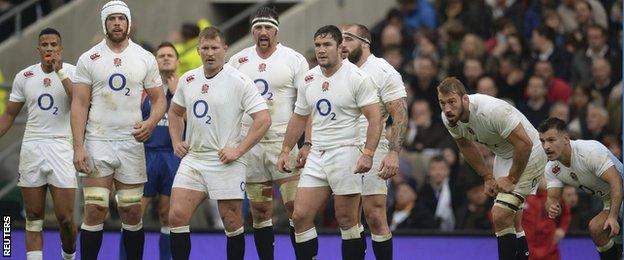 Culture? It is a lovely idea. This is undoubtedly a pleasant England team, and a positive, inclusive environment they have built around themselves.
But which supporter talks proudly of culture in the pub afterwards? How much consolation comes from culture when you can't win the matches that matter?
Lancaster is not one for excuses, so let us introduce some for him: seven British and Irish Lions missing from his squad, a centre pairing and wingers with fewer caps than the opposition captain, a sin-binning which seemed harsh to many and cost his side precious momentum just as they hauled themselves back.
He is aware that he needs to develop this team. Only four of those who started in white in the last clash between these two sides started again this weekend.
But that in itself is a problem. For all the changes in personnel, enforced or deliberate, he appears little closer to a blend that can beat the sort of sides that need to be beaten if World Cups are going to be won.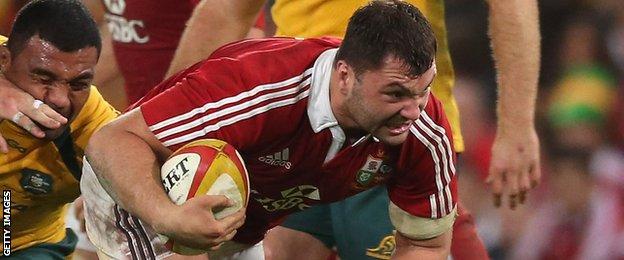 Owen Farrell endured a horrible afternoon. He is out of form and not fully fit, but he is also yet to consistently convince that he is the fly-half around whom England can build a World Cup charge.
Lancaster has been loyal to him from first game in charge until now. More dashing options like Freddie Burns and Danny Cipriani have been spurned in favour of the Saracens man's defensive abilities and resolve under pressure.
Now the questions will be asked again. George Ford will start next week against Samoa, and may start again against Australia a week later.
Inside him Ben Youngs will also be given another chance after Care, who had led the team out to mark his 50th cap, struggled for the second week in a row.
Expect changes, too, in a back row where the ball carriers lacked dynamism and too often took the ball stationary before making minimal headway.
But there are wider issues. England's pack is solid at the set-piece and was a threat through the driving maul. The strategy beyond that is harder to divine.
Runners are too often isolated. Brad Barritt is not a 13. Forwards appear where backs are expected. Mike Brown is not being utilised as a second point of attack. You could go on.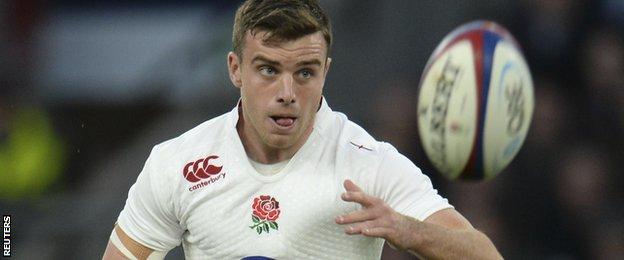 England are lacking the structure of a team that win World Cup quarter-finals, let alone tournaments. When chances beckon they too seldom have the composure to put them away.
With 11 months to go and the two hardest opponents out of the way, they have sufficient time and opportunity to change. But the clock is ticking. And Lancaster knows it.
"We need to learn which guys, when the white hot pressure is on, can deliver," he said after defeat by the All Blacks.
"We've never said we're the finished article. When we took the roles back in 2012, we knew we would have to take a young group of players through some tough environments, and we're not going to sit here feeling sorry for ourselves.
"I believe in the coaches, I believe in the players and I believe in what we're doing.
"You're always learning and developing as a team. We'll not panic or lose our nerve, or deviate from our course.
"But for me it's about learning who can and can't handle it for 11 months' time. There are some good players we need to find out about."
Lancaster is a solid man and a solid coach with the sense to make good his limitations with more experienced and charismatic lieutenants.
Under his stewardship England have never finished lower than second in the Six Nations, have beaten the All Blacks and won, impressively, in Paris and Dublin.
For all that, Lancaster now has almost the same winning percentage as predecessors Martin Johnson and Brian Ashton, similarly likeable men who were unable to take England to a world-class level.
And so comes his greatest test: in less than a year, converting promise into something tangible.
Culture clubs are one thing. The boy George may be required, along with much else, if number one is going to be reached.