Warren Gatland seeks explanation after Hibbard plays for Gloucester
Last updated on .From the section Welsh Rugby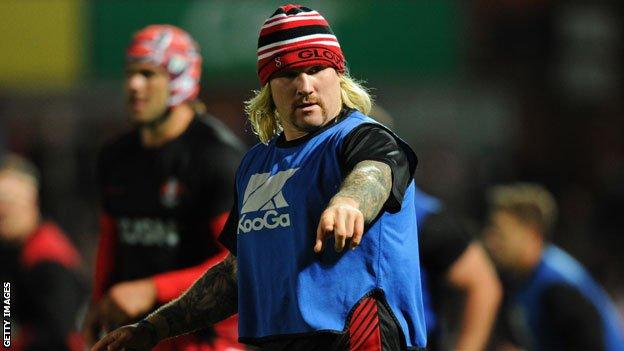 Coach Warren Gatland wants to hear hooker Richard Hibbard's explanation after he played for Gloucester on Friday night.
The Wales management believed Hibbard, 30, had a foot injury and Gatland said he would have put him in the squad against Fiji if he was fit.
Gloucester boss David Humphreys claimed Hibbard had Wales' permission to play.
"I just want to get some clarity on what's going on because either you're fit... [or not]," said Gatland.
The New Zealander added: "If he was fit for Wales he would have been involved. I don't see how he can somehow become fit halfway through the week."
Former Ospreys player Hibbard came on for the final seven minutes of the 22-15 loss to Harlequins.
Gatland on Hibbard playing for Gloucester:
"Sometimes a player needs to be stronger, you know. And that's the conversation we'll have with him next week."
He was not selected for the match against Fiji after a foot injury stopped him from training in the early part of the week, but he was released to Gloucester on Thursday and named on the bench for the Aviva Premiership match.
Wales forwards coach Robin McBryde said on Friday afternoon that Hibbard would be "playing with fire" if he took to the field for his club.
After his side beat Fiji, Gatland said: "He hasn't taken a full part in the first two weeks [of training].
"He's presented to us early in the week with an injury. We've put him in a boot [and he] wasn't available for selection.
"So it was a surprise to us then on the Wednesday that he presented himself to Gloucester, being able to be fit to go on the bench."
Gatland believes Hibbard may have been forced to make himself available for Gloucester.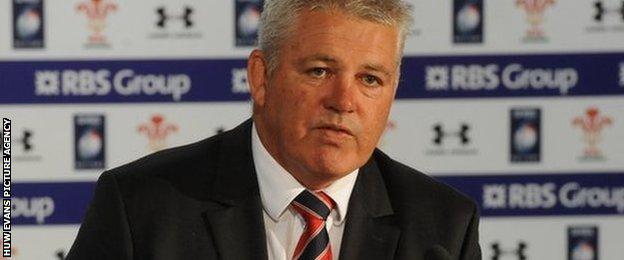 "I suppose that's pressure that sometimes clubs put on them [players] and he was told he was to sit on the bench and he wouldn't come on unless there was an injury.
"They've told us he wouldn't go on unless there was an injury so I need to check on that. But the player needs to take some responsibility as well.
"I don't blame Gloucester at all because they're playing in their own competition and wanting to put out a team that's good enough to win.
"Sometimes a player needs to be stronger, you know. And that's the conversation we'll have with him next week."
After their defeat by Harlequins, Gloucester director of rugby Humphreys said: "We agreed with Wales [on Thursday] that he would be sitting on the bench.
"As far we are concerned, Richard had been released by Wales under regulation nine and was involved, as many other players who have been released will be this weekend."
International Rugby Board regulation nine states players can be recalled from international duty by their clubs if they are not named in the match-day squad.