England, Wales and Scotland - Jeremy Guscott's reaction

By Jeremy Guscott
Rugby union analyst, BBC Sport
Last updated on .From the section Rugby Union835
England and Scotland both lost on Saturday, but while the former created only frustration in a sloppy display in their 31-28 defeat by South Africa, Scotland were refreshing in their performance and approach against New Zealand.
It was far from an ideal weekend for Wales either as a second-string side laboured to a 17-13 victory against Fiji, but Ireland will be pleased to have put away Georgia with some comfort in a 49-7 win.
But first up, England...
Silly penalties, too many errors and frustration
I think the dominant feeling in the England camp will be frustration - you could see it in the interview full-back Mike Brown gave after the match.
I can understand how they feel because I've been on a losing run and the pressure does build - the only way to stop it is to start winning, but that can be difficult when you're playing the best sides in the world.
Because of that, everyone needs to take a breath and step back - England have just played five games against the top two teams in the world, with Saturday's defeat following four consecutive losses to New Zealand.
They didn't help themselves by gifting South Africa a 10-0 lead - if you give them a head start you're really swimming upstream.
They did so well to get to back to 20-20 but then, soon after the Boks had gone back in front, poor decision-making by an individual once again reared its head with Dylan Hartley being sin-binned.
If you are going to give away a penalty you have to do it for the good of the team, like New Zealand captain Richie McCaw in the closing stages against England the previous weekend.
When McCaw made a tackle and then decided to compete for the ball at a ruck he took a calculated risk, and it was a marginal call too.
It wasn't blatantly illegal and although he was off his feet it was a close-run thing, but he decided it was worth doing because it killed England's attacking momentum - it was for the good of the team.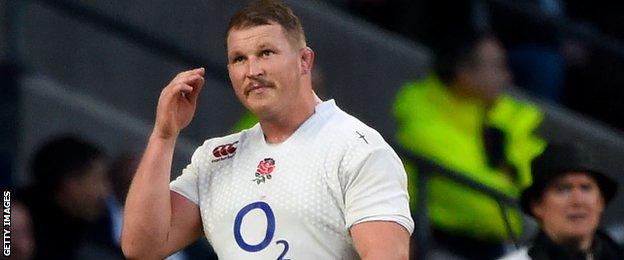 Against the Boks, some of the penalties the England players gave away were nowhere near marginal.
They were silly, unnecessary, cost England momentum, gave away possession and led to points.
It was not smart rugby and you have to ask, 'what was the point of doing that?' Therein lies the frustration.
The penalties were far from the only issue at Twickenham.
In the first 15 minutes England coughed up the ball on six occasions, five of them around the South Africa 22.
Number eight Billy Vunipola was losing possession too easily - he's a big unit and you should have to tackle him into next week for the ball to come loose, but that wasn't the case.
Then there was Owen Farrell, who made a poor decision in his 22. It's an easy thing to say but his choice to pass the ball to the isolated Anthony Watson, rather than belting it downfield, was a result of not being smart - it was poor decision-making compounded by bad execution.
Errors are bad enough but when they are unforced it is even more frustrating.
The dirty dozen - England's dire run v S Africa

2014:

England 28-31 South Africa

2008:

England 6-42 South Africa

2012:

England 15-16 South Africa

2007:

England 6-15 S Africa (RWC)

2012:

South Africa 14-14 England

2007:

England 0-36 S Africa (RWC)

2012:

South Africa 36-27 England

2007:

South Africa 55-22 England

2012:

South Africa 22-17 England

2007:

South Africa 58-10 England

2010:

England 11-21 South Africa

2006:

England 14-25 South Africa
What we have to remember, though, is that England are the fourth best team in the world. They don't have a team full of players who would make a World XV and how many other teams would have beaten the two best sides in the world?
England have been in a position to win a couple of those games but haven't taken the smart decisions needed to win.
We also saw very little of the back three in attack - you've got those guys there, use them.
I don't think the recent results will have much bearing on whether or not England can win the World Cup - there are always shocks and surprises and there is still a long way to go.
Wales lacking in inspiration
This Welsh side for me underperforms, but again it's important to view things in perspective.
They went into the game against Fiji, who are ranked just outside the top 10, seventh in the world and having made a lot of changes, and as a result their co-ordination and understanding had totally gone.
When you make lots of changes it doesn't work. You could see it with the All Blacks against Scotland, so why should Wales be any different?
Samoa, Fiji and Tonga are all getting better and have all upset tier-one sides, so you're not always going to smash them, but all the same it was a strange game in Cardiff.
With all their advantages in planning and organisation compared to Fiji, Wales should have been better than they were, but they couldn't string enough phases together to win comfortably.
There were some pluses - full-back Liam Williams had a fine game and flanker Justin Tipuric was all over the field - but some other players didn't seem to show.
Coach Warren Gatland said it was a good team and it was on paper but it wasn't the most inspiring performance.
I think the guys that came in this weekend made it easy for Gatland to pick the team to play New Zealand next weekend, as bar Williams and Tipuric, it's hard to name anyone else who put their hand up and said 'pick me, I'm playing well'.
Cotter working magic on Scots
Despite their defeat I couldn't help but be impressed by Scotland's performance against New Zealand.
I've talked often about the Holy Grail of performance - actually delivering on the field of play - and some coaches seem to just work magic on their charges.
They strike a chord and players play their best as a result. To this list of coaches who find the switch that makes their team get out there and go, it looks like we can add Scotland's Vern Cotter.
I was not just entertained by the game at Murrayfield, as a neutral I found it enthralling.
There were simple little touches, like at the breakdown Grieg Laidlaw would pass to a forward but they might then move it on two or three phases further out from the breakdown.
New Zealand do that sort of thing as a matter of course, but tell me a northern hemisphere side that does that.
To see a side from the home nations do that both frequently and comfortably was refreshing.
Sometimes they played a little too much in their own 22. You have to get the balance right, you should know quickly whether you're going forward or need to get rid of the ball and exit your own half.
Fly-half Finn Russell looked comfortable in only his fourth Test; the 22-year-old seems born to play Test rugby.
His half-back partner Laidlaw was a brilliant captain but it was really a whole team performance.
Laidlaw stood out because he looked so confident - it was as commanding a performance as I've seen at nine from anyone in the world this year.
With Joe Schmidt having brought new life to Ireland, it's probably no coincidence that both he and Cotter are Kiwis.
They have connected with their squads and have revitalised these teams.
Gatland had that once with Wales but they have been sporadic in recent times and it will be interesting to see for how long Cotter and Schmidt can inspire their teams.
Scotland produced an almost textbook performance. It was a simple game-plan, with players committing hard and rising to the occasion.
They pushed an admittedly second-string New Zealand side all the way and they can take plenty from their performance.
Jeremy Guscott was talking to BBC Sport's James Standley.