Richard Hibbard: Gareth Thomas defends appearance for Gloucester
Last updated on .From the section Welsh Rugby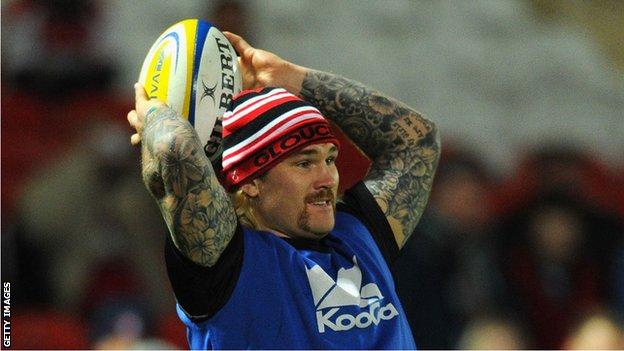 Gareth Thomas has defended Richard Hibbard playing for Gloucester after he was deemed unfit by Wales.
Former Wales captain Thomas, 40, says he understands Hibbard's decision.
"He has a family that he has to look after so ultimately he doesn't want to be a pawn in a fight between the union and clubs," said Thomas.
Hibbard was released from the Wales squad ahead of the game against Fiji after medical staff decided he would not recover from a foot injury in time to play.
However, the former Ospreys player was named on the bench for Gloucester's Aviva Premiership match against Harlequins and came on during the last 10 minutes.
After Wales' unconvincing display against Fiji, Gatland said: "I just want to get some clarity on what's going on because either you're fit... [or not].
"If he was fit for Wales he would have been involved. I don't see how he can somehow become fit halfway through the week.
"I don't blame Gloucester at all because they're playing in their own competition and wanting to put out a team that's good enough to win.
"Sometimes a player needs to be stronger, you know. And that's the conversation we'll have with him next week."
However Thomas - the first player to make 100 appearances for Wales - believes Gatland should not have made his comments to the media.
"I personally don't agree with why Warren Gatland has said that publicly, he could have just given a standard answer," added Thomas.
"They shouldn't blame the player. The union (WRU) should look at themselves and realise perhaps they as a union should talk more with the clubs where our players are involved."
After the 22-15 loss to Harlequins, Gloucester director of rugby Humphreys said: "We agreed with Wales [on Thursday] that he would be sitting on the bench.
"As far we are concerned, Richard had been released by Wales under regulation nine and was involved, as many other players who have been released will be this weekend."