Scotland showed positives in loss to All Blacks, says Mike Blair

By Mike Blair
Former Scotland scrum-half
Last updated on .From the section Rugby Union
but there was a lot in this performance to make Scottish supporters proud.
I think there will be very mixed emotions in the home changing room at Murrayfield, though - satisfaction that they are moving forward and improving, but also massive frustration that this was a historic victory that slipped through the fingers.
It was there for the taking.
New Zealand had a young, inexperienced XV but the team was packed with talent. Through a combination of Scotland's enveloping defence and a greasy ball we witnessed an error-strewn performance from them.
They coughed up 20 turnovers, which is almost unheard of, and the positive news for Scotland's defensive system is that they actually forced 13 of them, done so through pressure.
Rob Harley was to the fore in this area and he continues to grow into the blindside flank position.
Former Scotland scrum-half Mike Blair
"When the backs have the ball, they are looking to work with each other as a unit, looking for mismatches in defence."
Vern Cotter's coaching stint with Scotland is in its infancy and he will be looking hard at where his team can improve. These last two games have certainly set a benchmark, particularly in defence, attitude and aggression and also with the understanding of attacking structure.
However, Scotland let themselves down massively with regards to turnovers - they will be sickened that 15 of the 26 were from unforced errors.
On a different day, against a different team, these turnovers could really cost Scotland. To reach a level of consistency of performance - and ultimately results - these errors must be cut out, especially as Scotland are not playing a particularly high-risk game.
The attack has been built on runners taking the ball from the scrum-half and they continued to manipulate the opposition defence with and Ross Ford stepping up. The amount of passing and offloading that the forwards are doing has been a massive boon to the side.
There has definitely been a shift in playing style as the forward runners are looking to eliminate defensive numbers, working as a pack to create quick ball, and then, when the backs have the ball, they are looking to work with each other as a unit, looking for mismatches in defence.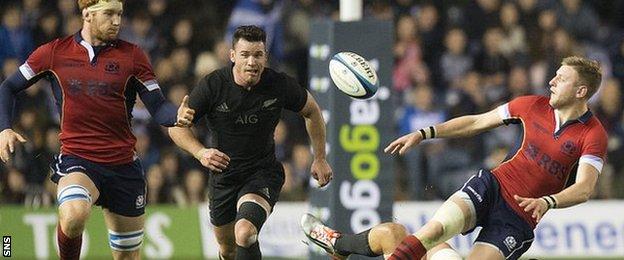 There is not as much mix-and-matching of forwards and backs as we have previously seen.
Finn Russell is not getting too many touches this autumn but he is looking composed and his tactical kicking has been astute. The propensity to attack more from has allowed Russell to feel his way into international rugby with less pressure placed on him and so far he is making a good fist of it.
Many teams are now using a match momentum chart as a key indicator of where and how games are won and lost.
In a basic sense, it's a graph mapping positive instances and negative instances that take place in the game. You get +1 for a positive (eg linebreak, lineout won, etc) and -1 for a negative (turnover conceded, penalty against, etc).
In the last 20 minutes of the game Scotland stumbled around neutral having been on an upward curve for most of the match. Conversely, New Zealand kept on building.
This was exactly the same as in their 24-22 win against Ireland last year. In the dying minutes of the match in Dublin, Ireland piggy-backed errors with another error and New Zealand kept their cool.
Scotland ran a New Zealand team very close for the first time since 1991. The secret now, and it sounds obvious, is to take the positives, keep them at a consistently high level and then focus on other aspects.
Consistency does not just come overnight but this Scotland team is certainly heading in the right direction.