Ireland coach Joe Schmidt says number three ranking a distraction
Last updated on .From the section Irish Rugby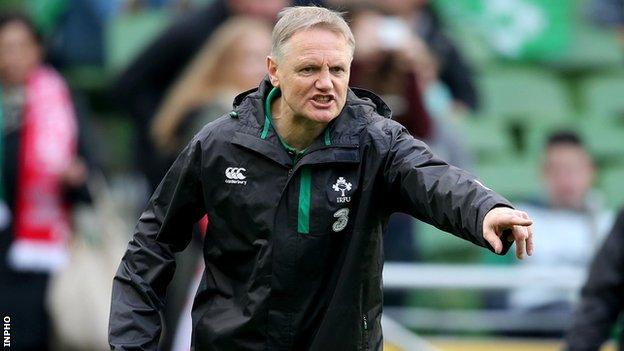 Ireland's head coach Joe Schmidt says their rise to number three in the IRB world rankings is "a distraction" and insists the squad will not discuss it.
Ireland were ninth when Schmidt took over as coach in April 2013 but have now overtaken England as the northern hemisphere's highest-ranked nation.
"I think it's a distraction. We can't win anything by saying we're third in the world," said Schmidt.
"I can't say it's something we'd be talking about or even aware of."
But the former Leinster boss said the national side's steady rise had been "fantastic", following Sunday's routine 49-7 win over Georgia.
That victory came just a week after a thrilling 29-15 success over IRB second-ranked nation South Africa.
"We just have to tidy up our scrum a bit, get our set-piece right and try to get those practical things right," he continued.
"I think it's fantastic, and a feather in the cap of the lads who have rolled their sleeves up for the last 12 months."
Ireland have lost just three times during Schmidt's tenure, to Australia and New Zealand last autumn and at Twickenham against England en route to claiming the 2014 Six Nations crown.
IRB world rankings on 17 November (previous position in brackets)

1. New Zealand (1)

6. France (6)

2. South Africa (2)

7. Wales (7)

3. Ireland (5)

8. Scotland (8)

4. Australia (3)

9. Argentina (10)

5. England (4)

10. Japan (9)
England's defeat by South Africa and Australia's loss against France in Paris allowed Ireland to move up to third for the first time since November 2006 and only the third time in the rankings' history.
Ireland earned no ranking points for their six-try rout of Georgia, given the visitors' status at number 15 in the world pecking order.
The rise of Schmidt's men owes as much to their dramatic victory over South Africa as their run of six consecutive wins.
Rather than toast the global league tables, Schmidt preferred to pinpoint Australia's "workaholic defence" as Ireland gear up to face the Wallabies in Dublin on Saturday.
Schmidt made 13 changes from the Springboks victory to face Georgia, but the majority of those who started against South Africa are expected to be reinstated.
Centre Jared Payne remains in the running for selection while he continues to fight his way back from a suspected foot sprain suffered against South Africa.
Rory Best, who missed the South Africa game because of a calf strain and wasn't considered for the Georgia contest, is back to full fitness and will be expected to return to the starting line-up.
Mike McCarthy sustained a suspected concussion in Sunday's game and will undergo the normal return to play protocols this week.
"If you don't shut the Wallabies down, they are very, very dangerous," said Schmidt.
"I think they've got a workaholic defence and it will be very tough on Saturday, without a doubt."