Scotland: Greig Laidlaw 'hungry again' after Gloucester move
Last updated on .From the section Scottish Rugby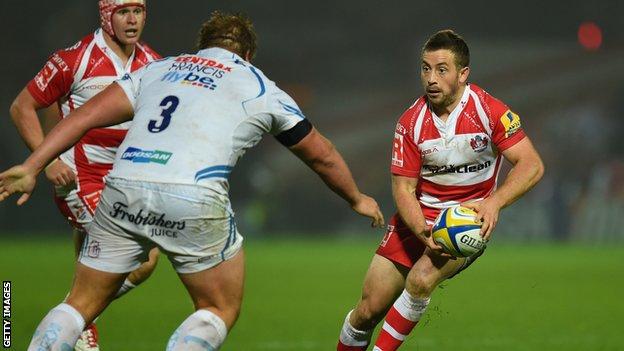 Greig Laidlaw insists his summer move to Gloucester has helped breathe new life into his career.
The 29-year-old, who has skippered Scotland in their last two Tests, left Edinburgh after almost eight years to join the Aviva Premiership outfit.
"It's made me hungry again," the scrum-half told BBC Scotland.
"I've had to prove myself in a different competition, in front of different coaches and players, so that's probably pushing me on as well."
Laidlaw added: "A change is good and that's the reason I left Edinburgh, I was ready for a change.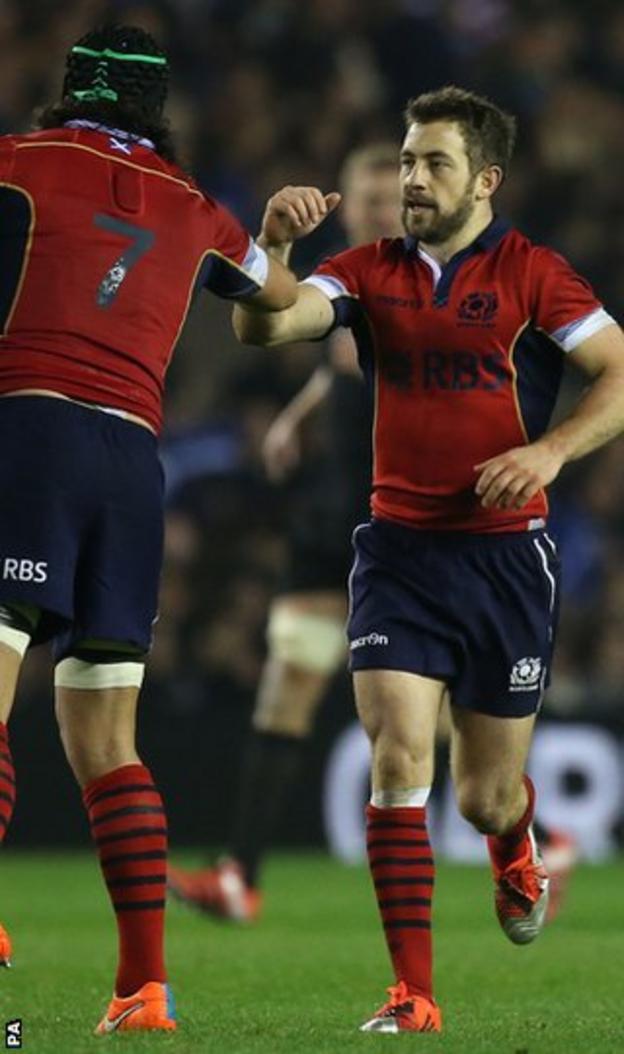 "I always fancied playing some rugby outside of Scotland and so far so good, it's working out for me at Gloucester. The fans love their rugby and it's fantastic to play in front of."
Laidlaw led the Scots to a 41-31 victory against Argentina and featured in the 24-16 defeat by world champions New Zealand in the first two autumn Tests, with Tonga up next at Rugby Park on Saturday.
Against the All Blacks, Laidlaw missed a penalty that would have put Scotland 19-17 in front with 10 minutes to play, but the scrum-half has already put that disappointment behind him.
"I've been pleased with my game in the last couple of weeks and I was bitterly disappointed to see that kick just stay right. But we win together and we lose together.
"I've thought about it, of course I have, but now it's gone and that's the way it has to be. There's no point thinking about it and thinking about it, you're never going to get that kick back. It's all about the next performance."
Laidlaw was named captain after Grant Gilchrist picked up an injury, but he is not too concerned about whether Vern Cotter makes him skipper in the long-term.
"Every time I'm made captain of Scotland it's the ultimate honour for me and it always will be," he added.
"If that's the direction Vern wants to take so be it, if not I'll just lead in my own way. If I'm the captain or if I'm not I try to lead in my own way anyway."
Laidlaw labelled the Tonga match "hugely important" and is hoping Scotland take their recent good form into the game, as they look for revenge for a 2012 defeat at Pittodrie.
And he is convinced playing on the artificial surface at Rugby Park will not hamper Cotter's troops.
"We're now firmly fixed on putting in a good performance and getting a good win against what will be a tough Tonga team," he said.
"We're well aware we let down the jersey that day [at Pittodrie], we let down the fans and we let down each other.
"It's not the greatest idea in the world, playing one of the hardest hitting teams in the world on a small pitch, but it'll be big enough and that day up at Pittodrie it was our performance, it was nothing to do with the pitch.

"Our players have experience of playing on these surfaces before so it won't hinder us at all."
Prop Gordon Reid, who is hoping to add to his five caps, described the Scotland skipper as "not the biggest of guys but he's all heart".
And Glasgow star Reid said the players were unfazed at the prospect of performing on Rugby Park's artificial surface.
"It's going to be a bit faster down there because of the astroturf. Hopefully, that's going to suit us.
"We've played against Cardiff who have the same kind of pitch and a lot of boys in the Premiership are the exact same.
"As I've said before, we're professional rugby players and it doesn't matter what kind of ground we're playing on, we have to go out there and give 100%. "