Scotland keen to end two years of Tongan hurt at Rugby Park
Last updated on .From the section Rugby Union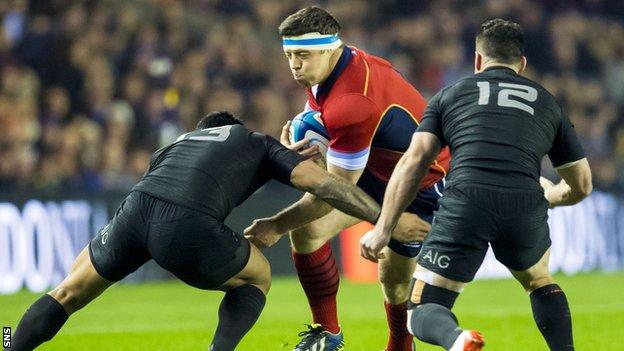 Alasdair Dickinson shares the two years of hurt over Tonga's 2012 visit to Pittodrie despite having watched Scotland's 21-15 defeat on television.
The prop is warning that they must endure another bruising encounter to achieve a better outcome at Rugby Park on Saturday.
"It was really tough to watch," the Edinburgh loose-head told BBC Scotland.
"Obviously there's a lot of the guys who played in that game who are here and want to right a few wrongs."
Dickinson is hoping he is not on the sidelines again on Saturday, when the Tongans will hope to upset the world rankings once more at another football stadium converted for the occasion.
"That is something that it is in the past now, but it is ingrained in the memories and we have a chance to rectify it," he said.
"We couldn't get much momentum in the game and the Tongans were very physical and knocking us about.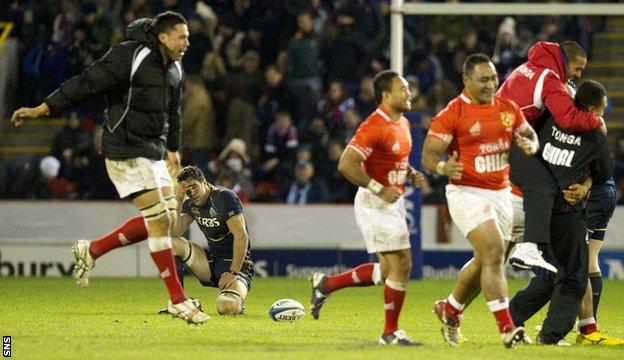 "It was way below what we're capable of and there was a sense of disappointment; we really let ourselves down, the coach, Andy Robertson, and the supporters."
Dickinson, should he be in coach Vern Cotter's match-day squad, is expecting to emerge from the encounter in Kilmarnock with a few more bruises to accompany the black eye he is sporting after Scotland's weekend defeat by New Zealand.
"The Tongans are notorious for being huge hitters," he pointed out. "I've played with a few over the years and they're very physical.
"They pride themselves in that - that's what they do, it's what they're good at and they're big physical specimens - they're like the size of a bus.
"You have got to be mindful of that and prepare yourself mentally for a massive physical battle.
"We're going to have to up our game physically and match them and fight fire with fire."
Scotland have beaten Argentina and picked up plaudits for their display in losing to the All Blacks, but Dickinson is aware that Tonga are also looking to continue an autumn series of promise.
"They have had a pretty successful tour as well," he said of the side who sit 12th in the rankings, four behind the Scots.
"They have played Georgia and America and had two great victories.
"So they will be coming here full of confidence and we've got to step up again from the New Zealand game and prove we can back it up."