Wales v New Zealand: How can Wales end All Blacks hoodoo?

By Tom Fordyce
Chief sports writer
Last updated on .From the section Rugby Union451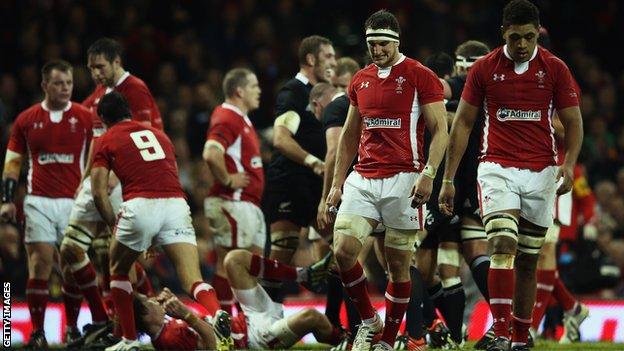 There was a time, shortly after World War Two, when Wales' record against the All Blacks was something to make the nation proud: a 75% win-rate, only one defeat in half a century to the men in black.
And then the next 61 years happened. There are bad runs in sport, ghastly hoodoos impermeable to passing years or pity, and there is Wales against New Zealand since 1953.
Played 25, lost 25.
It is the longest losing sequence against one opponent in tier-one Test history. Sure, Ireland and Scotland have never beaten the All Blacks at all. But both have at least drawn, and - with five Grand Slams between them to Wales' 11 - neither have they shared the same burden of expectation.
Occasionally it has been close: the 26-25 heart-breaker a decade ago, the 19-12 defeat five years later that might just have been different had Alun Wyn Jones not run horribly out of steam when cantering towards an unguarded try line.
Most of the time it has not. The average winning margin is 20 points.
So how can Wales possibly hope to overturn a side widely being touted as possibly the greatest ever? It's not logically possible. Or is it?
'Fear can make you freeze, or it can inspire'
Let's get the bad news out of the way first. In 2014 alone, New Zealand are averaging seven points a game more than Wales. In all matches between the two sides, they have scored more than four times as many tries.
When England's - and Wales' - cricketers ended an 18-year hoodoo of their own against Australia in 2005, much weight was given to that young side's lack of scar tissue against their mighty opposition. No baggage, no fear.
Well, Alun Wyn Jones and Mike Phillips have finished on the losing side against the All Blacks six times. Leigh Halfpenny, Jamie Roberts, Paul James and James Hook have all been beaten five times.
Isn't intimidation inevitable under such circumstances?
"When you're in camp, surrounded by your team-mates, you actually worry about it less," says Martyn Williams, who knows a little of these things having suffered seven defeats by the All Blacks among his 100 caps.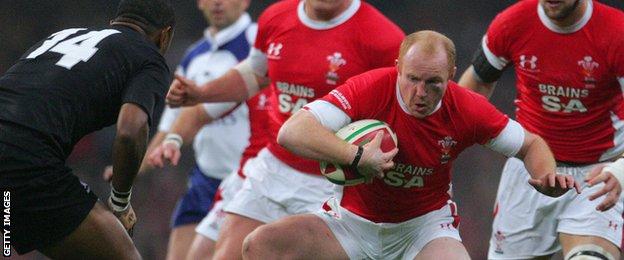 "You know all about the history, but you love the challenge. The All Blacks are a special team to play, and it inspires you.
"If you're intimidated by it, you shouldn't be there. It can instead be liberating - you've got nothing to lose. Tell a player that everyone's saying how poor you are and that galvanises you. Feed off that."
Here are three statistics that may offer a little comfort. In 2014, the All Blacks have missed only 2% fewer tackles than Wales. They have conceded, on average, more penalties per match. And they have conceded almost exactly as many turnovers.
"Fear can work two ways: it can make you freeze, or can inspire you to pull off something incredible," says Williams.
"This generation of All Blacks is one of the best of all time. But they are 15 rugby players. If you put them on a pedestal it will be a disaster.
"They lost to England on the last match of their tour two years ago. They scraped past Ireland in their final fixture last year. Hopefully Wales can exploit the same thing again."
The attitude - 'Wales have to play rugby'
So much for the mental preparation. How must Wales approach this match if they are to do what so many Welsh teams of the past have signally failed to do?
"People say it's psychological before the game," says Jonathan Davies, fly-half when Wales were hammered 49-6 by the All Blacks in the World Cup semi-final of 1987 and then by a combined tally of 106-12 in the two tour matches that followed the next summer.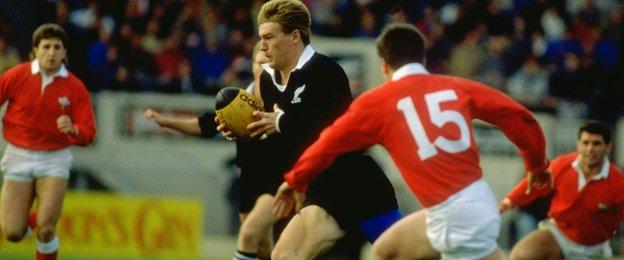 "It's not. It's psychological during the game, when you've got to do the right things at the right point in the contest.
"Against Australia, Wales played pretty well. They took the game to them and played with pace and intensity, attacking the set piece and varying their play. If Dan Biggar had stayed on they might have got a result, because they were in control.
"The All Blacks, in their last four matches, have made more errors than they normally do and missed more tackles. Against Australia this year they turned it on when they needed to; they lost to the Springboks, and against England and Scotland they could conceivably have lost both.
"If the All Blacks subconsciously feel like it's the last game of a long season, there's an opportunity there. But you can't simply try to contain them. Wales have to play rugby."
The tactics - playing the percentages
England tried to take them on up front but were undone by an inability to convert early chances and capitalise on a second-half numerical advantage. A week ago Scotland got close to a second-string side but missed costly kicks in the critical moments.
What should Wales - so erratic in 2014 - aim to unleash on Saturday evening?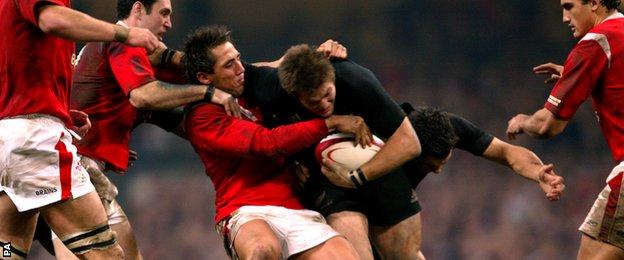 "In rugby league, you set your six tackles, get out of your area, kick and force an error," says Davies, a shimmying star in both codes. "Whoever's patience goes first, or who makes the first error, puts themselves under pressure.
"Union is getting exactly the same. Very rarely do you see a team trying to run from their own 22. So your exit strategy has to be in place: good kicking, good chase.
"The All Blacks are patient. They kick a lot. And when the unforced error is made, that's when they're better than anyone else.
"To beat them you must be equally patient. Play in the right areas. Be in the game with 15 minutes to go.
"If Wales can attack with pace, attack the set-piece and work with territory, it can be a lot closer than people think."
The challenge - 'make them earn everything'
The Welsh XV that will start at the Millennium Stadium on Saturday contains nine British Lions. Not all have been in that form so far this chastening autumn. For hope to out-punch history, that must change this weekend.
"Everyone has to be on top of their game," says Davies. "Halfpenny has to offer more in attack. So do Alex Cuthbert and George North.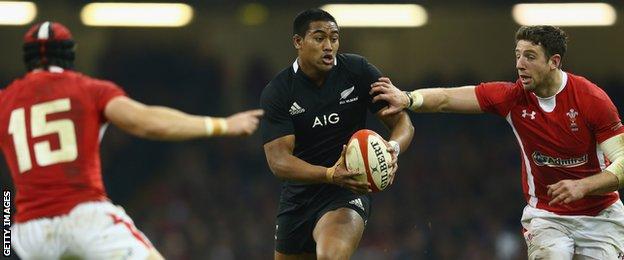 "If you stop Wales on the gain-line, there's a lack of creativity behind. That's where they need to adapt - get Roberts and Jonathan Davies to swap a little, bring North and Cuthbert in, use Halfpenny more.
"Halfpenny isn't like Israel Dagg, Israel Folau or Willie le Roux. They are a running threat. I would like see him become more of a threat with ball in hand, and work more in conjunction with Dan Biggar.
"New Zealand's decision-making and game management are outstanding. Their basic skills are at a higher level. You can't have a mistake-free game. But if you play in the right areas, and try to exploit that little bit of tiredness that I think is there, you have a chance.
"You have to make them earn everything. Don't hand them field position. Don't hand them the ball through errors.
"When this Welsh team gets tired, they play too deep. And then they struggle to play their power game, because they lose the gain-line battle.
"When Australia needed to drop that goal at the end of the match, their ball-carriers shifted it through the hands. That's why these teams are consistently in the world's top three. There was variety in their attack."
Can Gatland and his coaches still inspire?
Two Grand Slams. A World Cup semi-final. The Six Nations title again in 2013.
It's hard to argue that Warren Gatland and his coaching team haven't over-achieved in their seven years in charge. But the group - Shaun Edwards, Rob Howley, Robin McBryde - has remained unchanged, and results over the past year have plateaued.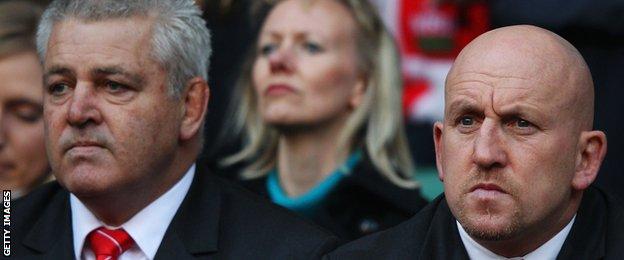 Are their coaching ideas still working for this group of Welsh players? Have the teams they are coming up against learned how to handle the power game that Gatland prefers? Are their players, even subconsciously, still listening to and being stimulated by the words the coaches have to impart?
"This Welsh team could be at a crossroads," admits Williams, who won a Grand Slam under Gatland in 2008.
"I would never write off this coaching team or this group of players at this moment, but the one thing they've struggled with is consistency.
"Wales stood still during the last Six Nations while England and Ireland evolved. And that's the next challenge for this coaching group.
"We know Wales are one of the fittest teams in the world. We know they're one of the biggest. Everything else is in place - the facilities, what they do off the field.
"But can they evolve into being one of the most skilful? Because they're not at the moment."
The philosophical safety-net
Time for the painkiller before fresh wounds have even been sustained.
A year before reaching the 2007 World Cup final, England were taking a horrible autumn pasting from New Zealand, South Africa and Argentina. Wales, victorious only twice in 12 games in 2010, were by the following autumn only a long-range Leigh Halfpenny penalty away from the World Cup final.
No-one expects victory against the All Blacks. So would another defeat actually make much difference - either to lop-sided history or Wales' chances at next year's World Cup?
"The 2003 England team set one example, which is that if you're waiting until the World Cup to beat one of the big boys, you're playing with fire," says Williams.
Last six Wales v New Zealand meetings
24 November 2012: Wales 10-33 New Zealand - Millennium Stadium
27 November 2010: Wales 25-37 New Zealand - Millennium Stadium
26 June 2010: New Zealand 29-10 Wales - Waikato Stadium
19 June 2010: New Zealand 42-9 Wales - Carisbrook
7 November 2009: Wales 12-19 New Zealand - Millennium Stadium
22 November 2008: Wales 9-29 New Zealand - Millennium Stadium
"But look at the Welsh record four years ago. They were at best average going into the World Cup. Fourth in the Six Nations, lost to a Barbarians side who had been drinking for two weeks, and I know because I was one of them. Beaten comprehensively at Twickenham in the warm-up game.
"Then came a turning point, against England again, in the Millennium Stadium, in the last warm-up game. You could just sense all the younger players just grow. The confidence came. They found form in the World Cup itself.
"So much can happen after the autumn. There will be injuries, players going in and out of form. It's what happens in the final four months before the World Cup that is critical, not now."
Davies witnessed Llanelli's famous victory over the All Blacks in 1972, given a half-day off school by a benign headteacher. Does he hold out any hope that he might once again see logic overturned?
"Winning would be fantastic, and I believe it will be closer than people think. If Wales are close with 10 minutes to go and New Zealand are tiring, this may be the day. Equally, if Wales make the same mistakes as last week, they could lose by 30 points.
"To be in the game with 10 to go would be a real test. And it would be time then for this team to put themselves up there, to put their bodies on the line and say, 'This may be the best chance we ever get. Let's do it.'"
Jonathan Davies and Martyn Williams will be part of BBC Sport's live coverage of Wales v New Zealand, on BBC Two, online, mobiles and the BBC Sport app from 1655 GMT on Saturday, 22 November. You can also hear live commentary on BBC Radio Wales, Radio Cymru & online, updates on BBC Radio 5 live and text commentary on the BBC Sport website and mobiles.
Autumn internationals: Wales v New Zealand
Venue:
Millennium Stadium
Date:
Sat 22 November
Kick-off:
17:30 GMT
Coverage:
Watch live on BBC Two, BBC Two HD, online, mobiles and BBC Sport app from 16:55 GMT; commentary on BBC Radio 5 live, BBC Radio Wales & Radio Cymru; text commentary on BBC Sport website & mobiles