Best says stern half-time words from ailing Schmidt rallied Ireland
Last updated on .From the section Irish Rugby
Ireland hooker Rory Best revealed that coach Joe Schmidt had delivered "stern words" to his players at half-time in Saturday's win over Australia despite being in agony because of appendicitis.
Schmidt was taken to hospital after his team's thrilling 26-23 win over the Wallabies and had his appendix removed a few hours after the game.
Best and his Irish team-mates had no idea that Schmidt had been in pain.
"That game might have been enough to send him over the edge," said Best, 32.
The Ulster hooker only learned of Schmidt's illness during an interview with BBC Sport Northern Ireland's Stephen Watson after the game.
"What did he do? Does he?" was Best's surprised reaction.
"I'm sure there were a few moments whenever that game certainly put him through the wringer," added the Ireland hooker.
"He's very passionate about his job and very passionate about us performing to the best of our ability as well.
"You see that on the training pitch and you see that at half-time as well.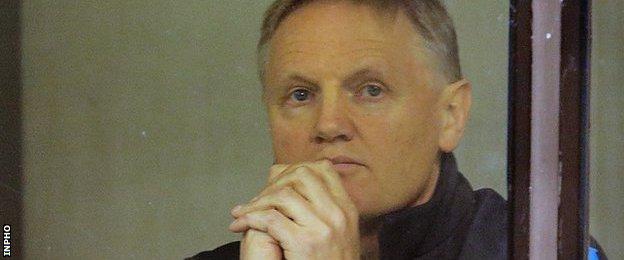 "There were some stern words at half-time but everyone felt they were very much justified. He's a quality coach."
And while the win represented Ireland's second major southern hemisphere scalp in three weeks after the 8 November win over South Africa, Best is certain that Schmidt will be able to pick plenty of holes in the display when the squad meets again next month.
Early tries from Simon Zebo and Tommy Bowe had given Ireland a seemingly commanding 17-0 lead after 17 minutes but Australia fought back to lead 20-17 shortly before half-time.
"We got the perfect start that we would have wanted but then probably just let the game open up a bit which suited them with their off-loading and their wide game," added Best.
"There were aspects of our defence in that second quarter that we'll not be happy with but we talked about it at half-time and very much rectified that in the second half."
After their successful autumn, Ireland are now being touted in some quarters as potential World Cup winners next year but Best is cautioning against such talk.
"I was in the last squad to do a clean sweep in the autumn [in 2006] and some 11 months later it didn't exactly go to plan at the World Cup. In fact, it probably couldn't have gone any worse," added Best, recalling Ireland's failure to reach the knockout stages at the 2007 tournament.
"There are enough experienced heads to realise that yes, it's great to do a clean sweep and to beat [two] of the top teams in the world but we'll be judged ultimately on the next time we take to the field in February.
"And if that doesn't go how we want it or we don't put in the work, then the hard work in November is all for nothing."