Ireland, Wales, England & Scotland - Guscott's reaction

By Jeremy Guscott
Rugby union analyst, BBC Sport
Last updated on .From the section Rugby Union625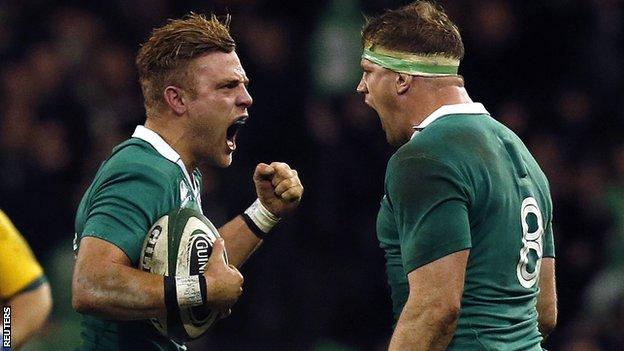 There were mixed emotions for the home nations teams on Saturday, with Ireland, Scotland and England all winning but Wales once again losing to New Zealand.
The Welsh led after 68 minutes against the world champions but were blown away in the last 10 minutes.
Ireland confirmed their rise under coach Joe Schmidt by beating another of the southern hemisphere giants, Australia, to add to their win over South Africa earlier in the month.
And England and Scotland secured regulation wins over the ever-physical Samoans and Tongans respectively.
Are Ireland the best team in Europe?
The world rankings say Ireland are the best side in Europe and their run of results this autumn has proved that.
They beat Australia 26-23 on Saturday but did not play as well as they did against South Africa, and, at Test level, there is only a small margin between a good and an average performance.
The latter occurs when some of your star players lose momentum for small periods.
On Saturday, Johnny Sexton went off his game a little bit in the first half and his kicking wasn't as well targeted as it had been. That was when Australia pounced to level things and it wasn't until the fly-half got back to his usual high standards that Ireland regained the upper hand.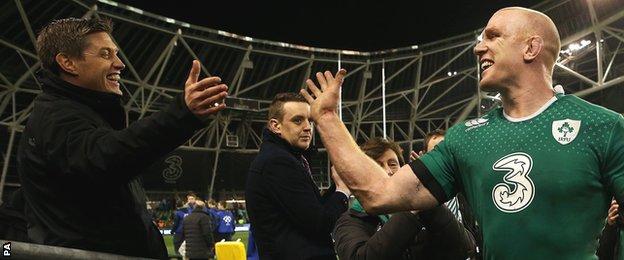 This Ireland team has some excellent players, with Paul O'Connell, Peter O'Mahony and Conor Murray all impressing in recent weeks.
Scrum-half Murray is playing his best rugby. He's kicked on from the 2013 Lions tour and realised with hard work that he can become an unbelievable player.
His box kicking is the best in the business and it gives the likes of Tommy Bowe, Rob Kearney and Simon Zebo the chance to put real pressure on the kick and potentially retain possession having made good ground downfield.
This seems to me like it could be the start of a new coaching era.
Rod Macqueen, who guided Australia to the 1999 World Cup, seemed to be the first coach to marry business management skills with sport and Sir Clive Woodward then took it on in his own fashion.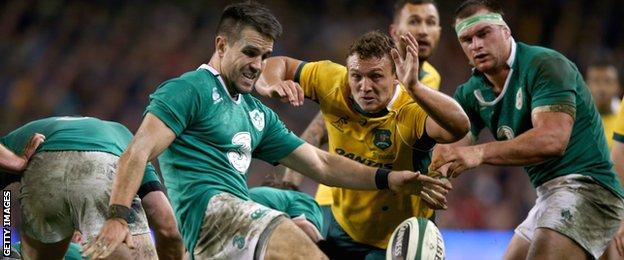 Woodward's main impact was off the pitch - he looked at the Rugby Football Union and demanded the resources that enabled him to make small gains across the board in the team's preparation, which led to the "no excuses" environment that underpinned England's 2003 World Cup win.
Ireland coach Joe Schmidt has gone to another degree and looked at players' roles during matches and given them a really clear blueprint of exactly what he wants from them.
That means telling your scrum-half that your box kick has to be 40 yards long and hang in the air for five seconds - and if you can't do that then there's no place for you in this team.
That level of detail is not going to work for every team - the All Blacks don't need it, for instance, because they can all do it already - but I think Schmidt is a very good analyser of both a player and a team, and what they're capable of doing.
There's no doubt he has connected with this group, who are performing really well and getting some fine results.
What happened to Wales against New Zealand?
Wales were leading after 68 minutes of their match against New Zealand, only to end up losing 34-16. But I think that's down to the Welsh falling away, rather the All Blacks lifting their game.
The fitness of the world's best team made the difference because they were able to keep clear minds, execute accurately and maintain their thought processes.
The key moment came when the bounce went Beauden Barrett's way after he went for broke. Wales full-back Leigh Halfpenny could maybe have dived for it, but Barrett got the stroke of fortune, scored and the momentum swung to the world champions.
However, it wasn't as if a tidal wave of supreme skill swept Wales aside. What we got was New Zealand mixing things up and executing well, but Warren Gatland's side dropped off their previous level and that made the difference.
There were some good things for the Welsh, who for 68 minutes were very competitive.
Inside-centre Jamie Roberts had an outstanding game, scrum-half Rhys Webb continued to dart and threaten throughout, and Dan Biggar proved he's becoming a very good stand-off.
Players find their mojo at different times in a career - such as Ireland scrum-half Murray - and Biggar has really matured. The harsh realities of the tricky times he had earlier in his career have provided the foundations for his current good performances.
The Welsh try was so well worked and illustrated just what number eight Taulupe Faletau is capable of - he's an extraordinary athlete just waiting to explode, but there's so much more to his game as well.
His break and offload to Webb showed such rugby savvy, it's just a shame there wasn't more of it.
Ford set to take over at 10 for England?
England got back to winning ways with a solid 28-9 victory over Samoa, and George Ford did enough on his first start at fly-half to suggest he will be in and around the side for a long time to come.
The 21-year-old has a great rugby brain, sets the tempo, knows what players need and has a real feel for the game. It also means he sees things before other players and reacts quicker, plus he has the skill-set to deliver on that speed of thought.
His goal kicking was decent on Saturday, although if he misses some crucial kicks he will come under examination because that's the nature of the role.
It's been a long time since I've seen two England wingers as quick as Anthony Watson and Jonny May.
Gloucester flyer May has lethal speed. His try against New Zealand was just sensational and he got on the scoreboard with two more good finishes on Saturday. He is rapid but he's got a lot of rugby nous as well.
If there is one small frustration, it's the quality of his kick chasing. If he could get up to the aerial standard of Ireland's Rob Kearney, England team-mate Mike Brown and New Zealand's Ben Smith then you'd have another Israel Folau on your hands, except playing for England and not Australia.
After a quiet first start last week, Watson got a few touches and the 20-year-old Bath winger looked sharp, especially when he offloaded neatly for Brown's try after stepping inside the cover.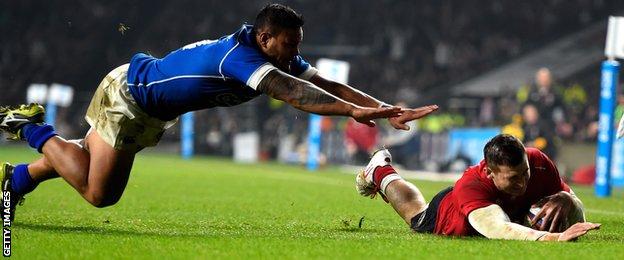 England now need to feed the speed, but I'm not certain they have worked out the midfield to do it. The Owen Farrell/Ford combination at inside centre and fly-half was a six or seven out of 10 but certainly didn't blow anyone away.
I would be surprised if Ford doesn't start at 10 against Australia. There's got to be a good reason not to pick someone who's on form and, while I didn't think Farrell showed too many suggestions that he's back at his best, Ford did enough to suggest he's at the top of his game.
One thing that was missing against New Zealand and South Africa was game management and when you've got a player like Ford who can do that for you, he's got to start.
Scotland keep on track
Scotland's 37-12 win over Tonga was a continuation of what Vern Cotter has been doing with the Scots.
They are expressing themselves but took their time on Saturday to build things. Still, it ended with a convincing victory.
They scored some good tries, which hasn't happened for some time, and it would appear there's been a genuine turnaround in their performances. The real test of how far they have come will be the Six Nations.
And looking ahead?
Right now, Ireland would expect to win the 2015 Six Nations.
Along with Scotland, they have finished their autumn programme, but England and Wales still have a chance to end on a high.
No matter how tired Wales might be after losing to New Zealand, I would expect the chance of beating an under-strength South Africa to be more than enough incentive to make them play for the full 80 minutes next weekend.
As for England, they need to take a leaf out of the Ireland playbook. Australia love to have possession and their attitude is that they're more than happy to play from within their own half.
As a result, England should kick, chase, defend, win quick ball and score tries. If they play simple rugby they should win.
Jeremy Guscott was talking to BBC Sport's James Standley.