Richard Cockerill - Geordan Murphy can lead Leicester Tigers
Last updated on .From the section Rugby Union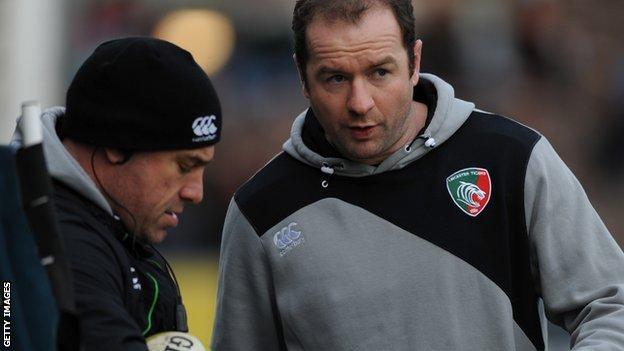 Leicester director of rugby Richard Cockerill says former captain Geordan Murphy is being developed to take over his role.
While former Leicester centre Aaron Mauger starts as head coach next term, Cockerill insists the plan is for Murphy to be in control in the future.
"I've said to Geordan that one day he will have my job," said Cockerill.
Talking to BBC Radio Leicester, 43-year-old Cockerill continued: "He will be running the club and we want that succession plan, whether that is in three years, five years or 10 years, who knows?"
Cockerill, who won five league titles, two domestic cups and two Heineken Cups in a 262-game Tigers career, is wary of fast-tracking former Ireland international Murphy as a coach.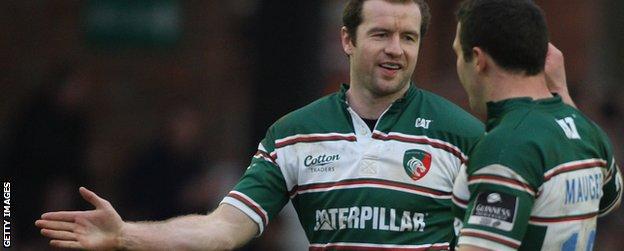 Murphy will continue to work as an assistant coach this season, while the head coaching role remains vacant until ex-New Zealand All Black centre Mauger starts in the job at the beginning of the 2015-16 campaign.
During his 322-game career as a player at Welford Road, Murphy played with both Cockerill and Mauger.
"There is no rush to climb the ladder to the top because if you get to the top and it doesn't work then it is a long way to fall," said Cockerill.
"I have known that myself - I coached from the academy, to second the team, then moved on to assistant coach and ended up in this job. I learned a lot along the way.
"It is very dangerous to go from finishing as player then straight to the top of the game where you are under pressure a lot - you have to learn a lot about yourself as a coach before you take on those roles."