Ireland rugby legend Jack Kyle dies aged 88
Last updated on .From the section Rugby Union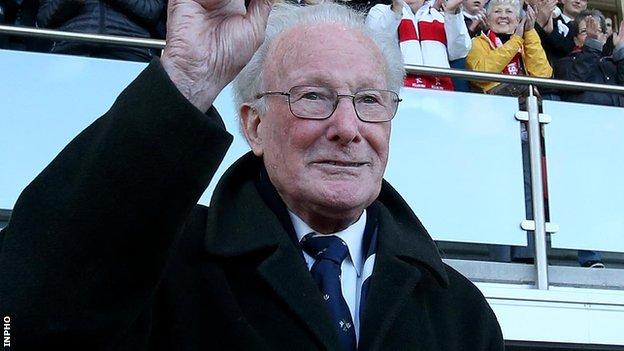 Jack Kyle, regarded as one of Ireland's best ever rugby players, has died at the age of 88.
Kyle was a hugely talented fly-half who won 46 caps for Ireland and six for the British and Irish Lions.
In 1948, the Belfast man helped Ireland win the Five Nations Grand Slam for the first time and in 2002 was voted the greatest ever Irish player.
When his playing career was over, Kyle worked for more than 30 years as a consultant surgeon in Chingola, Zambia.
He returned to Northern Ireland and spent his retirement living in Bryansford near the County Down seaside town of Newcastle.
Kyle, appointed an OBE in 1959, will be fondly remembered as a modest gentleman who was supremely gifted in the fields of sport and medicine.
He was a stylish number 10 whose reputation as a truly great player lived on long after he had hung up his boots.
In 2002, he was voted the best Ireland player of all time in a poll organised by the Irish Rugby Football Union.
"Jack died peacefully in his sleep at home last night, surrounded by close family members," his family said in a statement issued on Friday morning.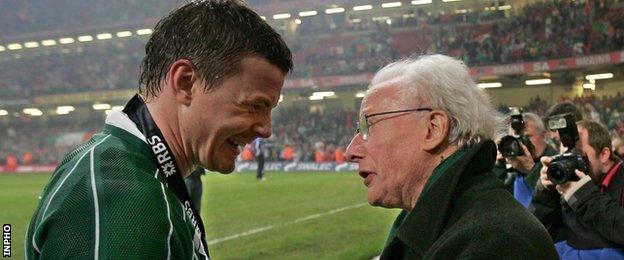 John Wilson Kyle was born in January 1926 and went to Belfast Royal Academy before studying medicine at Queen's University in his home city.
He first played for Ireland during the Second World War in a friendly against a British Army side.
Kyle went on to win 46 full caps, scoring seven international tries.
He played in all four matches as Ireland clinched their first Grand Slam in 1948.
The Irish had to wait 61 years for their next Slam, and fittingly Kyle was in Cardiff to witness Brian O'Driscoll's side triumph in 2009.
On Friday morning, Ireland's record points scorer Ronan O'Gara said on Twitter: "It was great to have shared the day with Jack Kyle in Cardiff. A thorough gentleman. Deepest sympathies to his loved ones."
Kyle also starred in the Ireland team which won the Five Nations championship in 1949 and 1951
The Ireland legend made his six Test appearances for the Lions on the tour of Australia and New Zealand in 1950. The 24-year-old was then at his peak and made a lasting impression with his outstanding speed and skill.
When he retired from the sport, Dr Jack Kyle took up a post as a surgeon in Indonesia in 1962.
After a couple of years he moved to Zambia, working in the copper mining area of Chingola.
For years, Kyle was the only surgeon at Nchanga South Hospital where he is still remembered as a man who saved thousands of lives.
In a BBC documentary, Kyle recalled: "There was this new condition called Aids which attacked the immune system and it caused a lot of problems.
"In the 1990s, up to 80% of the people in the surgical wards I looked after were HIV positive."
Ulster captain and Ireland hooker Rory Best led widespread tributes by hailing Kyle as a genius of the game.
"I remember my father and grandfather talking about Jack Kyle and what a great player he was in his time," said Best.
"But for him still to be looked upon by modern-day players as a genius of the game shows what a legend he was."