Wales can win World Cup, says coach Warren Gatland
Last updated on .From the section Welsh Rugby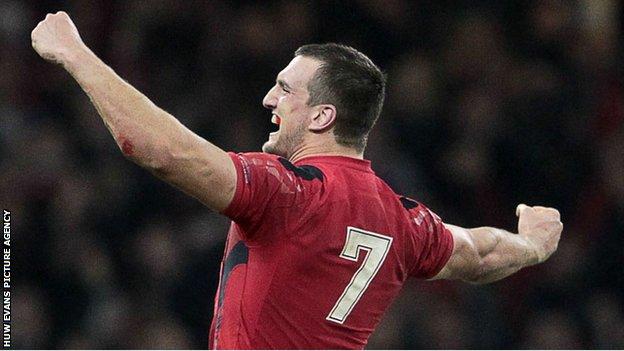 Coach Warren Gatland believes Wales can win the World Cup in 2015 "if we get the bounce of the ball".
Wales beat South Africa 12-6 in Cardiff, ending a run of 22 consecutive defeats against the southern hemisphere "big three".
The New Zealander says the win is an important landmark for his side.
"It's nice to win today, we've wounded one of the big beasts... it's one of the stepping stones to what we're trying to achieve," said Gatland.
"The long-term goal is to win the World Cup.
"And I think we're good enough to do that if we get the bounce of the ball, and a couple of things go our way.
"[But] it's going to take a lot of hard work between now and the next eight to 10 months."
Wales' triumph over the Springboks - only their second ever - came six years to the day after their previous win over one of rugby's southern powers - the 21-18 victory against Australia on 29 November, 2008.
Afterwards Gatland said his team had "desperately needed" to win after a string of near misses against South Africa, New Zealand and the Wallabies.
He also reiterated that the Welsh management's approach to the autumn internationals was as preparation for the World Cup in September and October 2015.
Wales face hosts England, Australia, Fiji and Uruguay in one of the toughest qualifying pools.
"I keep saying that our whole focus is to make sure that we qualify out of our group, the pool of death next year," added Gatland.
"That's what our focus is on.
"The way we approached this autumn and the way we approach the Six Nations... the long-term goal is to make the quarter-finals of the World Cup and if we don't do that it's going to be a huge disappointment."
"A win like today (against South Africa) and going toe to toe with the All Blacks for 69 minutes, being in front against Australia as well - we've learned from those experiences.
"And we'll be able to draw back on them and it will make us mentally stronger - [give us] that mental toughness and edge that can hopefully take us to that next level."
Captain Sam Warburton believes the challenge for Wales is to be able to beat teams such as South Africa on a regular basis.
"We don't want this to happen once in a blue moon and celebrate like we've won the World Cup," said the Cardiff Blues flanker.
"If we want to be world beaters - which is what we want to do - and to win the World Cup, this has got to be the standard we expect now year-in, year-out and hopefully kick on from here."