Dorking play with shirts inside out after Redruth kit clash
Last updated on .From the section English Rugby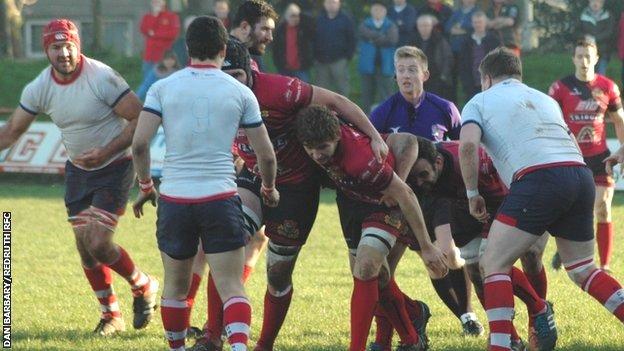 A team in the fourth tier of English rugby turned their shirts inside out and wrote their numbers on the back in ballpoint pen after a clash of kits.
Dorking won 38-12 at Redruth, but their red and white kit was too close to the red and black worn by the home side.
"We offered our change kit, but they said they'd rather turn their shirts inside out," Redruth's head coach Steve Larkins told BBC Radio Cornwall.
Dorking achieved their 12th straight win to stay second in the division.
"It wasn't the start of a National League Two game you'd expect - it was more of a school game," Larkins added.
"They did have numbers written on, but it was written on in biro on their backs."
And even with a different kit, Larkins conceded that Dorking, who ran in five tries, were the better side.
He continued: "We played well in patches, and our try from Matt Bowden we'd been trying to do all afternoon. It was just a shame it took us nearly 70 minutes to break down the Dorking defence.
"They were a pretty impressive outfit and by far and away the best team we've played this year."