Geoff Parling: Leicester Tigers lock not worried by head injuries
By Chris Jones
BBC Radio 5 live
Last updated on .From the section Rugby Union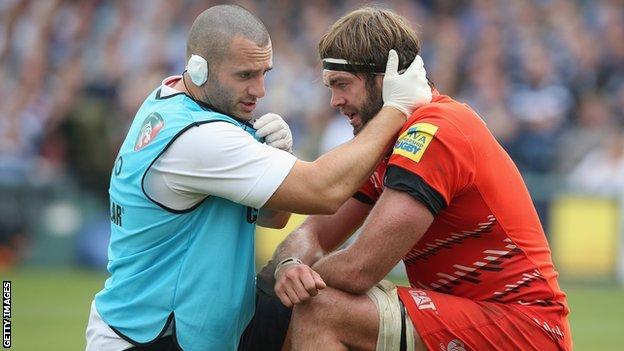 England and Leicester second row Geoff Parling says he is not worried about suffering another head injury, despite missing 11 weeks on medical advice.
"It's been very frustrating but great to be back," he told BBC Radio 5 live.
"I wasn't worried coming on at the weekend. As far as I'm concerned I've been fully fit for quite a while."
Parling, who has been named in Leicester's starting XV to face Toulon on Saturday, was told by doctors to take a prolonged period of rest after a blow to the head in the Premiership defeat at Bath - his second head knock in quick succession at the start of the season.
The former Newcastle Falcons lock, capped 21 times by England, subsequently missed his country's autumn international series.
Parling's lengthy absence
Geoff Parling had to sit out 11 Leicester Tigers matches and four England games because of medical advice.
"It's a difficult one, it really is," he said. "I agreed I should probably have more than the six-day minimum rest. I do think - especially with young kids - it's important to take any head knocks seriously.
"But I think if you hear 'concussion' now a lot people who aren't educated in that matter can have a lot of opinions on it. If you had read the papers you would have thought I was in a dark room rocking backwards and forwards. It got exaggerated with the numbers I had, it even got announced I had knocks in games I hadn't played in.
"I had a definite concussion last October, where you are dazed and a bit confused and you are a bit out of it, then one knock last May and two at the start of the season. The worst symptoms I had with those ones were a very, very, very mild headache and a little bit of blurred vision.
"The day it [the rest] was announced I was getting texts saying 'thinking of you' - which was lovely - but I was actually driving up north and went surfing in Newcastle.
"I did feel disappointed with the press in general, it was completely exaggerated. It changes perceptions, and I found that once one person writes an article everyone refers back to that article. So I was pretty disappointed.
"It looks like it might have just been something called 'impact-induced migraines', which isn't a concussion. But you never know, so it's important to take these things seriously."
Parling, who said an England recall was "in the back of my mind", now has eight further Tigers first-team matches in which to play himself back into Stuart Lancaster's side before the start of the Six Nations on 6 February.