Glasgow Warriors' Alex Dunbar: Rise and rise of the farmer's son

By Tom English
BBC Scotland
Last updated on .From the section Rugby Union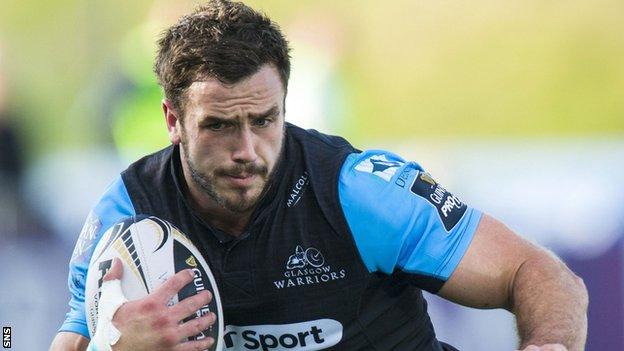 Pool Four: Glasgow v Toulouse
Venue:
Scotstoun Stadium
Date:
Saturday, 13 December
Kick-off:
13:00 GMT
Coverage:
Live on BBC Radio Scotland, BBC Radio 5 live sports extra and the BBC Sport website
Alex Dunbar got to his bed just after 01:00 GMT on Monday morning, exhausted from his exertions on the field in Toulouse and weary from the long journey home.
He got some sleep and then dragged himself into a recovery session later in the day. Sore neck, sore shoulders, sore back, but nothing felt as bad compared to the soreness of defeat.
Glasgow Warriors' 19-11 loss in France had all the attrition of a Test match, no doubt about it. Dunbar says he has played many times for his club and 11 times for his country and never before had he encountered a collection of specimens quite like those Toulouse forwards.
Oh sure, he'd had monstrous hits in the past and was concussed once when making his way in the game with Selkirk. To this day, nothing has matched the howitzer laid on him by one of his team-mates in a Glasgow training session.
"I picked the wrong guy to run at - our prop, Mike Cusack," Dunbar explains. "I tried to step back inside and he was coming across and next thing I knew I was doing somersaults."
But for sheer volume of thunderous collisions, Toulouse was right up there. It had been a brutal confrontation but the thing that hurt the most was the realisation that Glasgow were largely architects of their own downfall.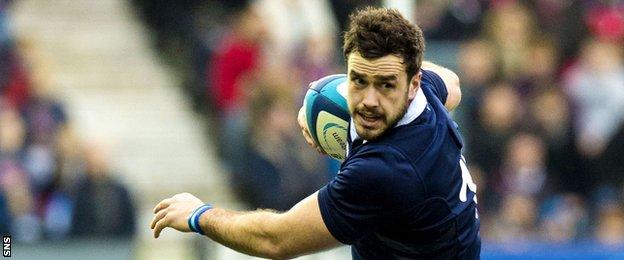 Fourteen penalties conceded. Two yellow cards. Sixteen points lost while they were down to 14 men. "Stupid penalties at stupid times," says the Scottish centre. "We let ourselves down. But we've got a chance to make amends."
It's a bitingly cold day in Glasgow. Dunbar has not long been informed of the nice things Will Greenwood, the great English centre, has been saying about him on Twitter.
Greenwood said that, given Dunbar's innate toughness, work at the breakdown and clever angles of running, there is a case to be made for him being one of Europe's finest centres.
"For somebody of Will's calibre to say something like is very pleasing," responds Dunbar. "It's maybe a little bit embarrassing but it's really nice to be acknowledged by somebody who has done so much."
Dunbar's rise has been swift and swifter still once you hear about his back story. He's 24 years old but this was not a boy who was marked out for success at a young age. He played, but only because his pals played. The rugby was something he did so he could enjoy the social scene around it.
It never dawned on him that it would quickly become the centrepiece of his life. He'd always thought farming was going to be his career, just as it was his for his parents on their land in Lockerbie.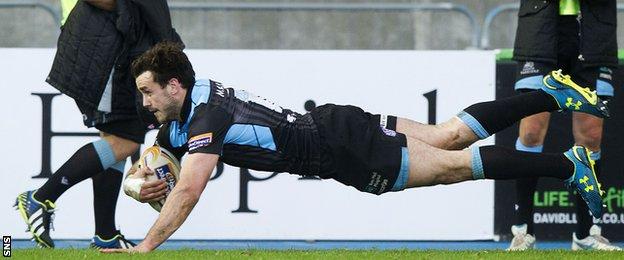 "When I was younger all I wanted to do was be outside," he recalls. "I used to love working with animals. Farming was the biggest part of my life growing up.
"Rugby was something my friends played. I went along and joined in but it was more the social side that I enjoyed. It was a good laugh. It was only when I was 17 or 18 when I was at college doing agriculture that I started talking rugby more seriously.
"We used to have a dairy farm with sheep as well and I loved getting up in the morning at the crack of dawn going out.
"Spring was the best time of year, all the new lambs and calves being born. I helped deliver them ever since I was a wee kid following my dad and mum around. I was probably four of five years of age when I first helped to deliver a lamb. I loved it and that's what I always thought I'd end up doing."
Six years ago, Dunbar's parents sold their farm and moved to Australia with his youngest brother, John.
Alex Dunbar on Toulouse
"They've got a huge pack, so we have to play clever, play in different areas of the field and not run into their strengths"
"They're in Tasmania," Dunbar explains. "The scenery and the land is similar to Scotland but the climate is so much better. Over here, there's a lot of paperwork and restrictions and different things you've got to do that makes it more stressful for farming, which is stressful enough as it is. Over there, it's more relaxed and easier to work.
"The fact that they're so far away has its ups and downs. The freedom of not having your parents telling you what to do all the time was nice in the beginning, but it's tough as well. They watch as many of my games as they can. They get up early in the morning and watch the match before they go milking or go milking really early and then come back in to watch it.
"John is with them and is studying business, but I have two other brothers closer to home. Keith has just come out of the army and is a mechanic in Lockerbie and Tom has just left the RAF and has a horse livery yard in Lincoln. We all went in different directions."
His mates from Lockerbie usually made the trek to Scotstoun for big games and as Warriors head coach Gregor Townsend, has been saying all week, there hasn't been a bigger game in the club's history than the return against the four-time European champions.
If Glasgow win then they are back in the box-seat as group leaders with two rounds to go. If they lose then they're not out of it, but the chances of winning the pool would be remote. Three second-placed teams will also make it through, but the competition for those slots is ferocious.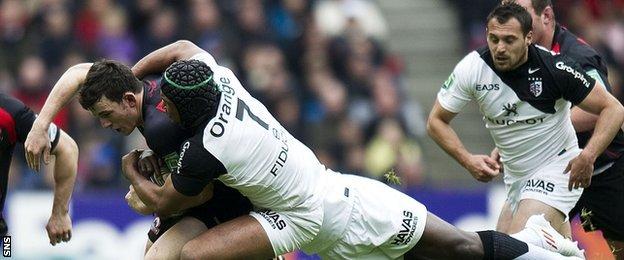 "It's still there for us," says Dunbar. "Our discipline needs to be sorted out and we can't give them opportunities to relieve the pressure like we did on Sunday.
"We need to play in the right areas. If the weather is anything to go by I don't imagine it's going to be a sunny day so we need to play smart and put them under pressure.
"They've got some great individuals but as a collective if we get it right there are very few teams that can deal with us. There are areas where we can have a real go at them.
"They've got a huge pack, so we have to play clever, play in different areas of the field and not run into their strengths - so, kick for space, move them around and try to put them off their game. If they get settled they are a hard team to beat. Keep them on edge, keep them guessing. Small margins decide these games."
It's a measure of how far Glasgow have come that an eight-point defeat in Toulouse has been the cause for such self-examination.
"We know we can be better and in front of our own crowd, I think we will be better," adds Dunbar. "It's the biggest game in our history and we have to embrace it."
Delivering lambs in spring in his youth was special, but in terms of exhilaration, Scotstoun on Saturday will be close. Oh so close.