Glasgow can still qualify in Champions Cup, says Townsend
Last updated on .From the section Rugby Union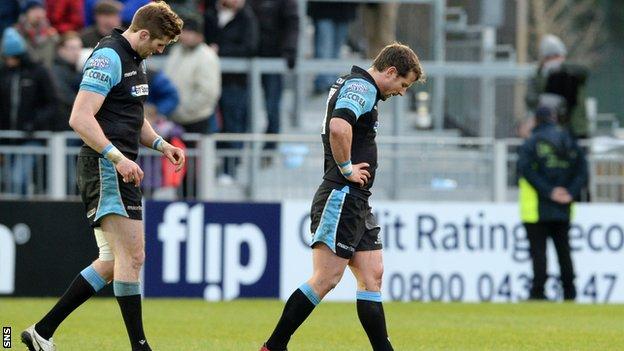 Gregor Townsend retains belief that Glasgow Warriors can reach the knock-out stages of the European Champions Cup, despite losing 12-9 to Toulouse.
"There was a report this week that 18 or 19 points should get teams through," Townsend told BBC Radio Scotland.
"That would mean we would have to win our last two games."
Those fixtures will be a home tie against Montpellier and a trip to face Bath, with Glasgow having beaten both sides already.
"We've got a home game next against another French team so it's important we put what we learned today into that game in January," said the former Scotland fly-half.
"We came up against a very tough side and it was hard to break them down. We didn't play at our best, which is frustrating.
"At times, we played really well and I was delighted with the effort the players put in, especially towards the end of what was a really tiring game, a tiring week.
"It just wasn't good enough on the day."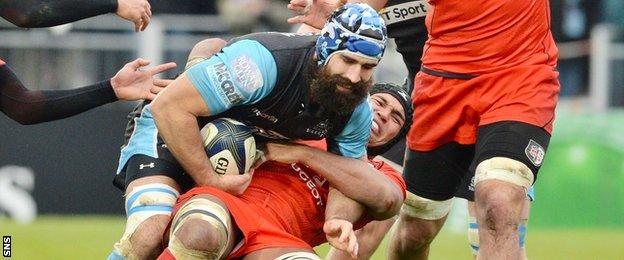 Sebastien Bezy's four penalties gave Toulouse victory in Glasgow, following a 19-11 win in France the previous weekend.
"I thought Thierry Dusautoir was world class in defence and on ball," Townsend said of the Toulouse captain.
"Giving away penalties when someone is working hard to win that ball at the ruck is not a lack of discipline, it's just very good play from them.
"We didn't handle the ball as well as we know we can, maybe because the conditions were tricky and defences could come up faster. That's shown as there were no tries in the game.
"We need to keep improving so we can win these next games.
"We knew how important this game was. The effort we'd put in last week and not to get a bonus point out there made us very determined to turn it around today and it never really happened.
"A couple of penalties going their way burst our balloon a little bit and we were waiting for something to happen and it is tough for it to happen in the conditions against such a quality team.
"The effort at the end to come close to either forcing a draw or getting that win was superb but we know we're in a tough place now to come out the group."