Ulster need more big signings - former Lions star Stephen Ferris
Last updated on .From the section Rugby Union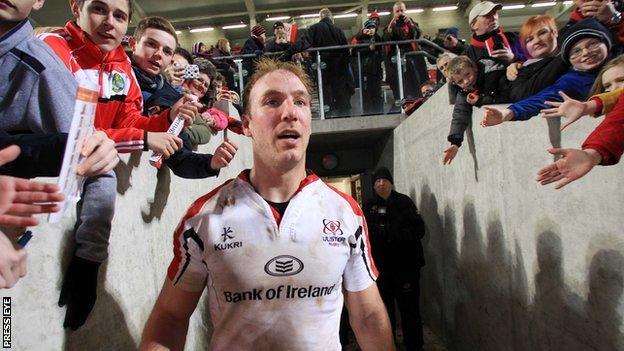 Former Ulster back-row star Stephen Ferris says the Irish province needs to attract more big-name signings if they are to compete with Europe's very best.
Ulster's hopes of making the quarter-finals of the continent's premier club competition for the fifth year in a row ended with a 22-13 defeat by Scarlets.
"If Ulster want to compete with the best, they have to bring in big names year in, year out," argued Ferris.
"When you lose four or five stars and bring in one or two you won't cut it."
"Ulster Rugby have been going on about this war chest of money they've had over the last five years or so and the way they've been building up the club.
European Champions Cup Pool Three

Team

P

W

D

L

F

A

B

Pts

Toulon

4

3

0

1

95

64

1

13

Scarlets

4

2

0

2

64

68

0

8

Leicester

4

2

0

2

61

77

0

8

Ulster

4

1

0

3

68

79

2

6
"But this season has emphasised how important your squad is if you want to be successful and Ulster's squad just isn't good enough at the moment.
"When we have our first choice team out it's brilliant but you can't have that every week - it's vital that we build our squad and I think playing away to Toulon next month is going to emphasise that even more."
The 35-times capped Ireland international, who was forced to retire in the summer after an injury-plagued few seasons, added that he believes the Irish provinces possess the funds to compete at the highest level, but are being held back by the priorities of the Irish Rugby Football Union.
"Leinster, Ulster and Munster do have the money but they can't utilise it to get the right players in because of the way the IRFU want it all structured.
"They obviously want to get their young players through and get them in a provincial shirt early, instead of potentially bringing in a big player from the southern hemisphere.
"There is talk of Toulon bringing in All Black forward Richie McCaw after the World Cup, while we're bringing in Clive Ross. No disrespect to Clive Ross, but he's been playing for Lansdowne for the last couple of seasons and is trying to make the big step up.
"The national team are doing very well because Ireland players are getting a lot of game time in the big matches and are stepping up to the plate."
For much of the last decade, the Irish provinces dominated European club rugby, while Ireland struggled to make the same impact on the international stage.
Munster won the Heineken Cup in 2006 and 2008, while Leinster were triumphant in 2009, 2011 and 2012, but neither of the last two deciders has featured any side from the emerald isle.
Meanwhile, with the notable exception of a Six Nations Grand Slam success in 2009, Ireland have struggled to fulfil their full potential until the recent upsurge in their fortunes under Kiwi-born coach Joe Schmidt.
"The Irish team is going well because the players are well managed to play for Ireland but England and France aren't maybe as strong as they should be, while their club teams are stronger on the back of an influx of foreign players that we don't really have here," former Ulster number eight Tony McWhirter told BBC Radio Ulster's Rugby Special programme.
"This season could potentially be the first since 1998 where an Irish side may not qualify for the knockout stages of the main European competition and that is indicative of where the game is now in Ireland with the selection and recruitment policy the IRFU have brought in.

"The top English and French clubs have a wage structure where they can basically go out and sign whoever they want, and that is giving them the necessary strength in depth.
"They can go out and sign someone for half a million if they need them during the season, whereas the Irish provinces don't have that latitude and don't have that lump sum in terms of money either.
"As far as bringing in big name players is concerned, I can't see that changing because all the overseas players Ulster have are contracted again for next season and I'd be very surprised if the IRFU say to each of the provinces that they're allowed to sign one more.
"The Irish provinces are trying to scour the world looking for Irish qualified players and the bigger French and English teams are widening the gap as a result.
"The IRFU have to decide if they want to eat at the top table with those sides or are we happy to set our sights a little lower and give priority to the national team doing well."