Delon Armitage: Toulon threaten legal action over 12-week ban
Last updated on .From the section Rugby Union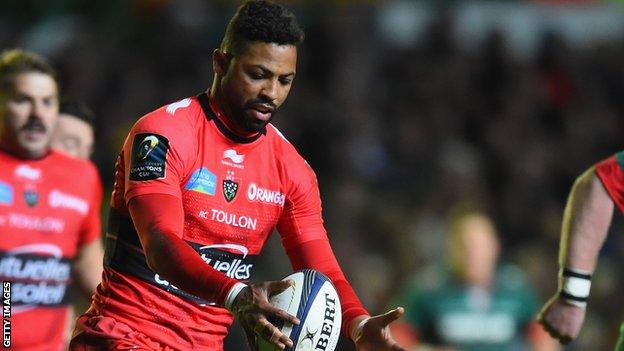 Toulon could take legal action against the Leicester fans whose testimony led to Delon Armitage's 12-week suspension.
Armitage, 31, was punished for using offensive language towards spectators after a European Rugby Champions Cup match at Welford Road on 7 December.
Toulon president Mourad Boudjellal told newspaper La Provence that there was "no formal proof" against Armitage.
"We aren't discounting the eventuality of going after these two supporters in court for false testimonies," he said.
He added that the ruling against Armitage was "incomprehensible".
"This is an extraordinary decision which rests only on the allegations of two opposition supporters, whose objectivity we can legitimately put in doubt," said Boudjellal.
"But there is no formal proof, no official document, not even television pictures to attest to the veracity of these testimonies."
English full-back Armitage will be suspended until 8 March. It was his second post-match misconduct case in the last four years.